Vyre: Reinventing Enterprise Content Management
I was a user interface designer at Vyre, a London-based enterprise content management company, from November 2008 through November 2009. During that time I led the redesign of Vyre's enterprise CMS, and also designed two new applications, expanding the company's reach into Digital Asset Management (DAM) and Marketing Resource Management (MRM). In addition to my work on these products, I also contributed to projects for prestigious clients such as Diageo and Royal Dutch Shell. Vyre was acquired by North Plains in 2012.
Content Management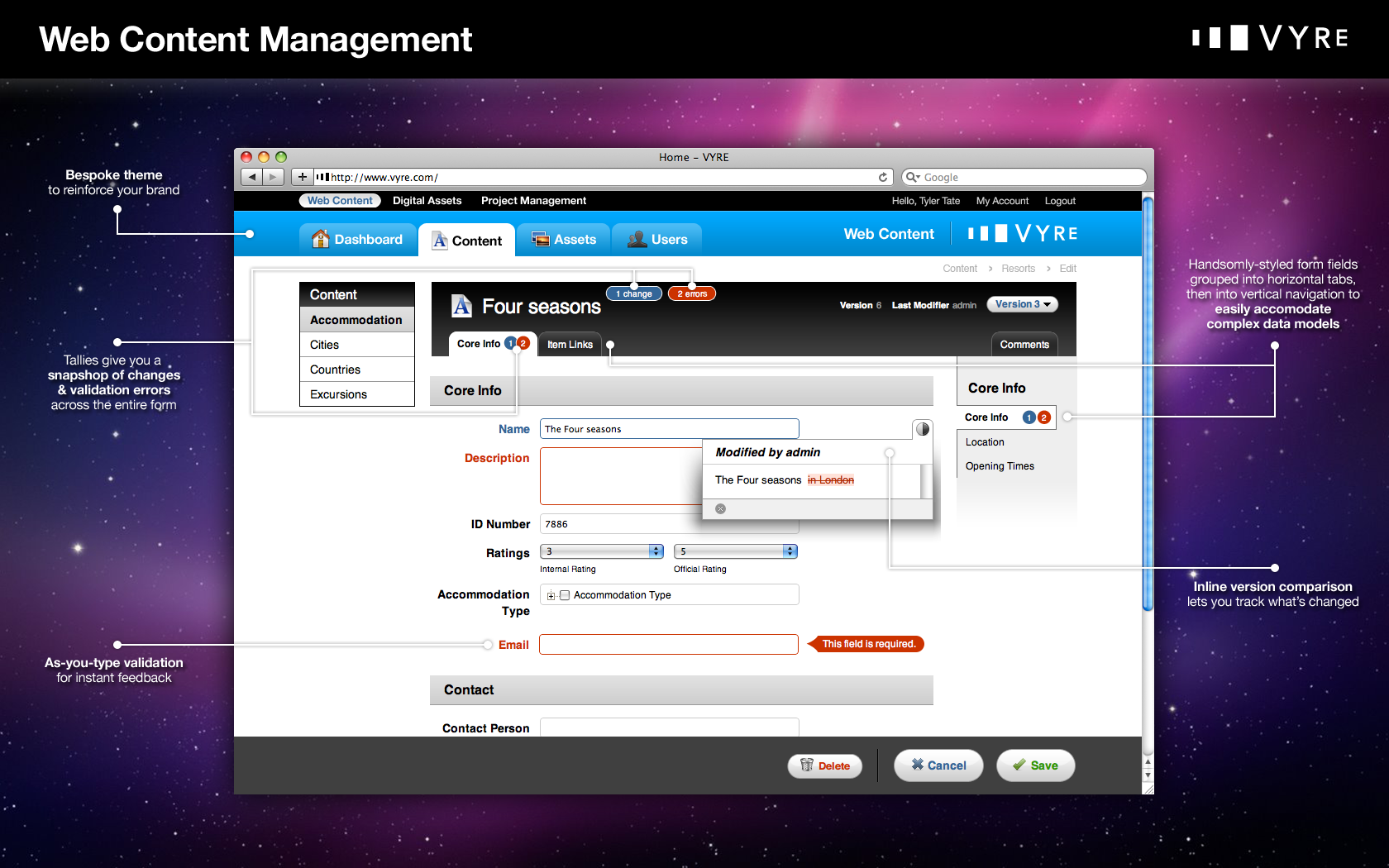 I led the redesign of Vyre's enterprise content management system, and worked closely with two engineers to complete the redesign. The three of us received the company's annual innovation award for our work, and six months after completion the redesigned CMS was being used by clients including Nokia, Virgin Holidays, The National Trust, Inghams, and Lowe Worldwide. The improvements also received praise from the industry's top analyst, CMS Watch, saying:
The redesigned CMS "presents a clean and quite logical interface… The new UI has a slicker look than what VYRE previously offered [and is] a very pleasant environment for editors" (The Web CMS Report 2010)."
Digital Asset Management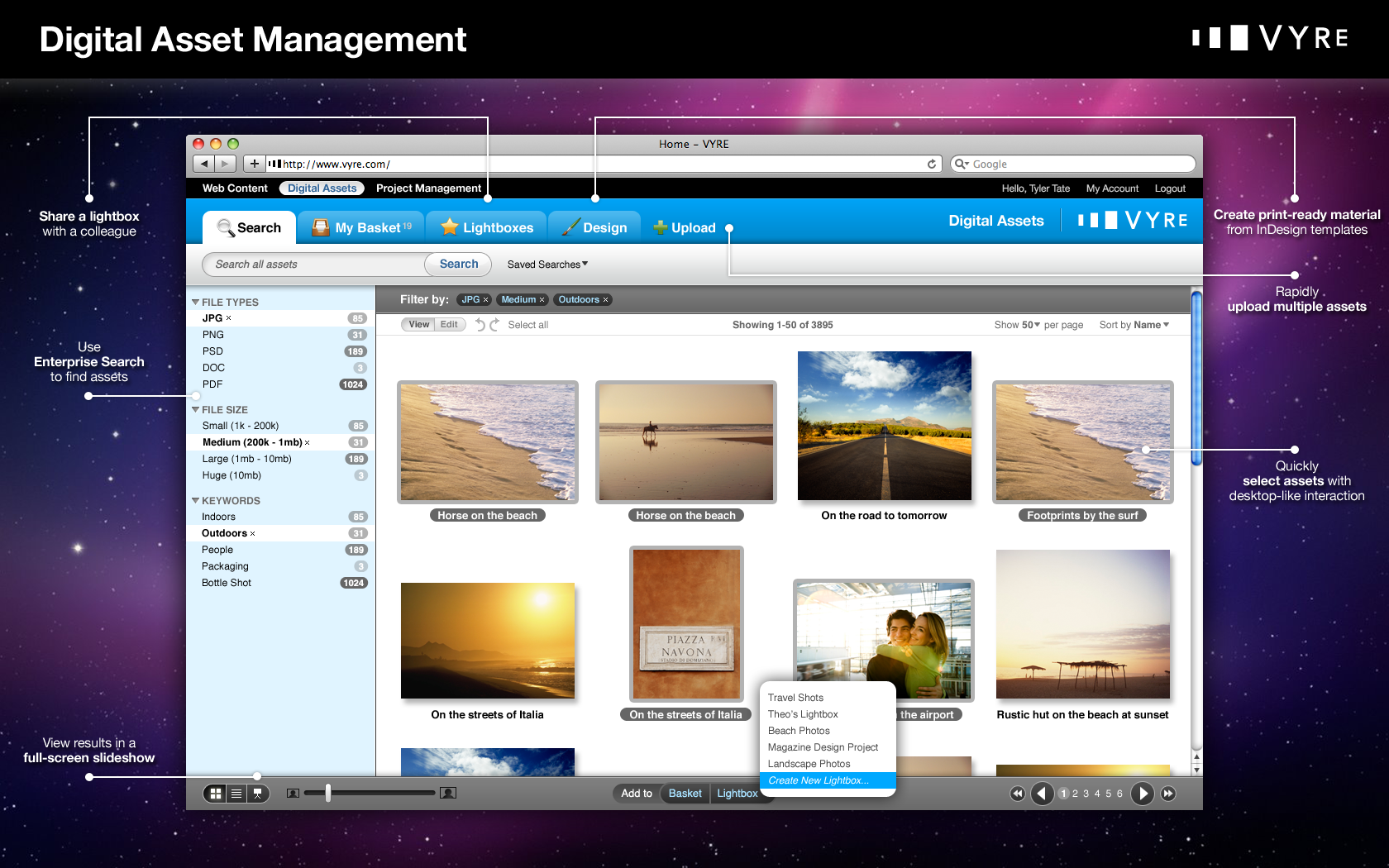 In addition to redesigning Vyre's enterprise CMS, I also designed two new applications—a digital asset management system (DAM) and a marketing resource management system (MRM). Usually these are three disparate apps; Vyre's vision was to bring the enterprise's entire marketing process into one suite of tools. While I completed the design of these new products, they were not implemented during my tenure.
A DAM system is typically used by the marketing division of an organization to keep track of their marketing photos, videos, music, artwork, and other assets, as well as the usage rights associated with them.
Marketing Resource Management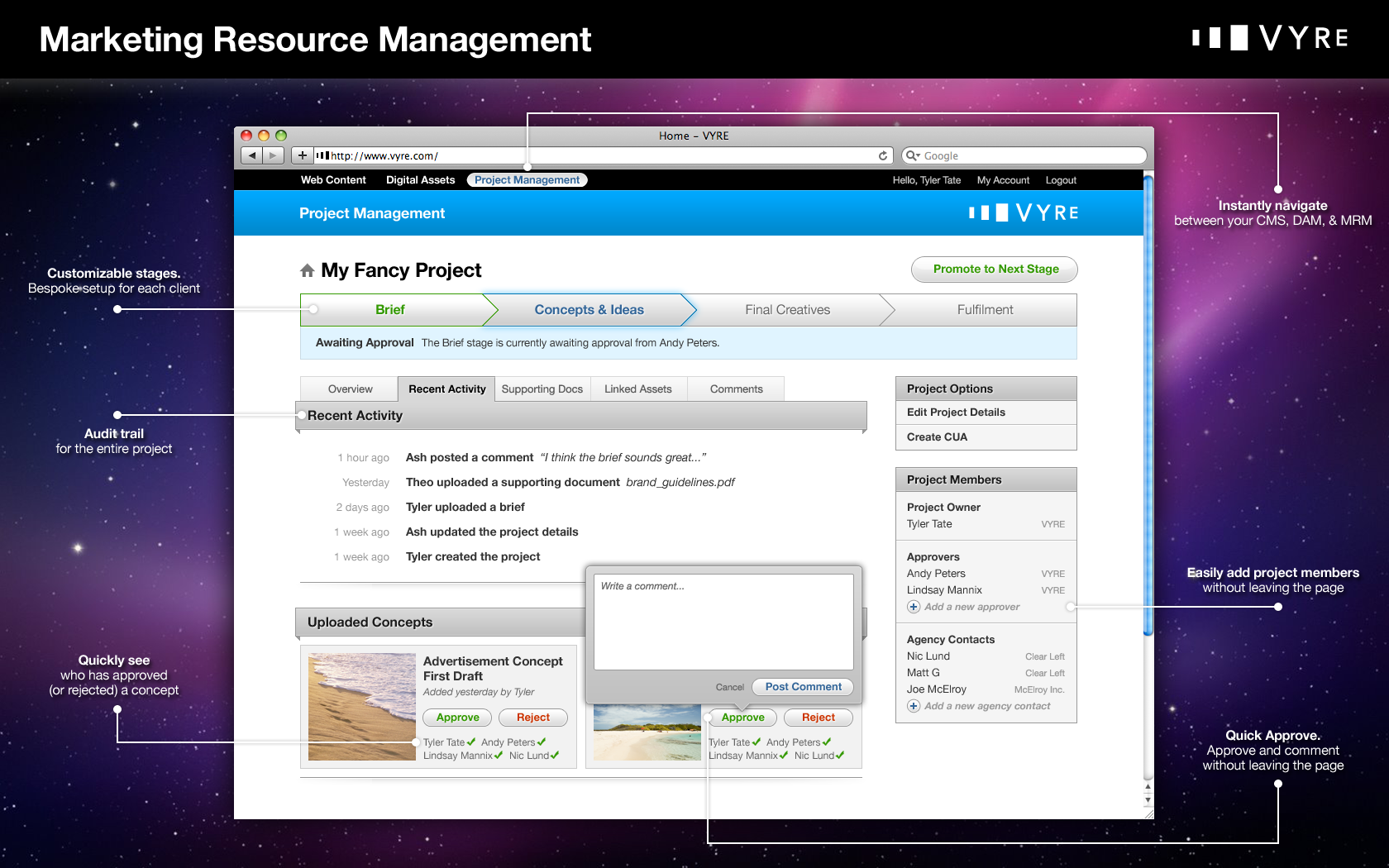 A MRM system is a project management tool used by marketing teams to orchestrate the processes, people, and assets required to complete a creative project.
Further Reading
I wrote one of my first articles about design while working on these web applications at Vyre. Minimizing Complexity In User Interfaces, published on Smashing Magazine, outlines some of the principles that helped me bring clarity to the complex world of enterprise apps.
Recommendations
Theo Bonham Carter (manager) says:
"Quite aside from the fact that he's a lovely guy, Tyler has that magic mixture of creativity, enthusiasm, vision and technical expertise that makes working with him a complete pleasure. Someone I can recommend without hesitation."
Joseph McElroy (coworker) says:
"I have worked with Tyler on a number of projects, Tyler has been the key for that extra small detail motivated by his hunger to learn and wanting to benefit the project. Not only his UI which is at the forefront, its his ability of marketing, leading, and decision making which makes him stand out as a huge player within a team."