Twigkit: User Interface Components for Data-Driven Applications
In 2009 I co-founded Twigkit, a London-based enterprise software company that provides tools for rapidly building data-driven applications. My responsibilities included leading the user experience, visual design, and front-end development of Twigkit's products, spearheading our marketing efforts, and helping key customers — including The Financial Times, Rolls-Royce, Qualcomm, BASF, Thomson-Reuters, Vodafone, Gemalto, and ITV — achieve superb search user interfaces.
To give you a better idea of what Twigkit does, here's a screenshot of the homepage that I designed prior to my departure in 2014, followed by some of the content and customer examples we used on the website.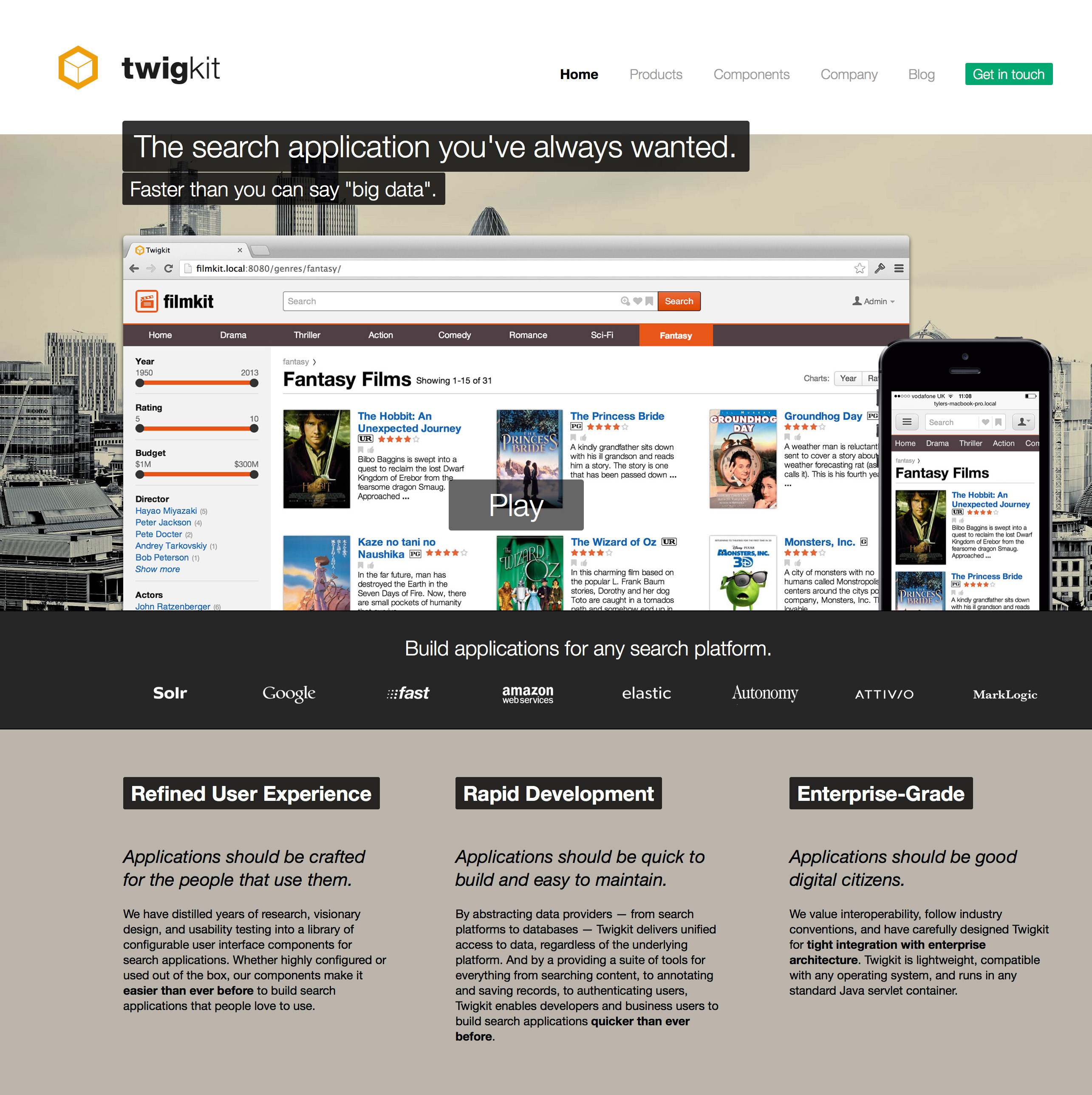 Enterprise Search
Our sustained, single-minded focus has culminated in the best search user experience in enterprise software. Beyond being easy to use, Twigkit's suite of tools enables knowledge workers to do their jobs better by collaboratively saving searches, bookmarking search results, annotating documents, and more. Built for enterprise architecture, Twigkit also abstracts access to disparate data providers, and integrates with Active Directory for document-level security.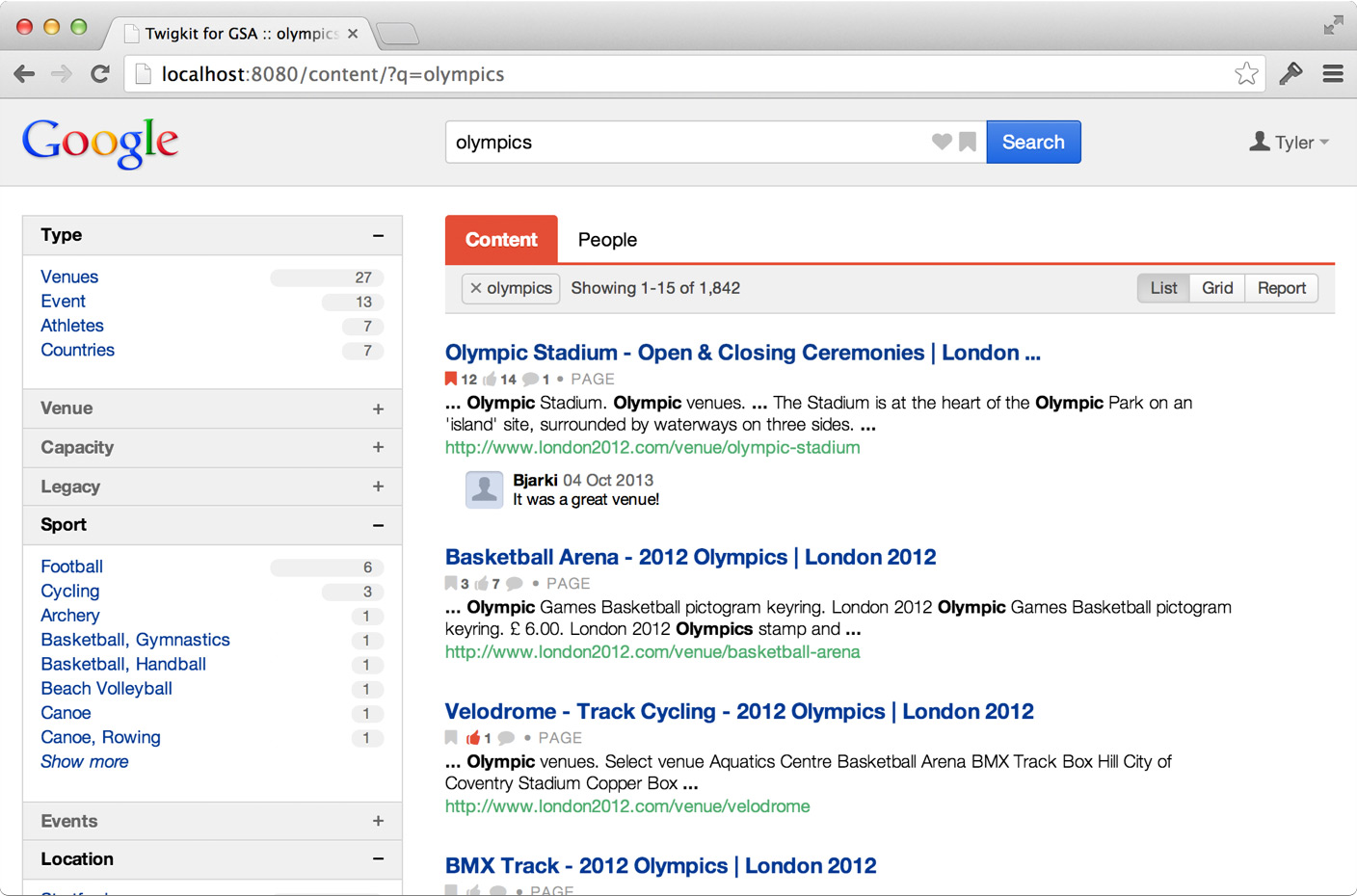 Used by…
Rolls-Royce. Intranet and file-share search for a leading provider of aircraft engines and other sophisticated power systems. Derby, UK
Qualcomm. Internal search for a world leader in wireless technology and the largest fabless semiconductor producer. San Diego, California.
PWC. Intranet, people, customer, and project search for one of the world's largest professional services firms. Johannesburg, South Africa
Gemalto. Intranet and staff directory search for the global leader in digital security. Paris, France
MITE. Enterprise search for the managers of federal funded research and development centers for the Dod, FAA, IRS, and other government agencies. Bedford, Massachusetts
Site Search
With easy to configure user interface components, semantic HTML output, and modular CSS, Twigkit has been built for seamless integration with existing websites, from look and feel to user accounts. And, optimized for tables and smartphones, Twigkit helps companies deliver great experiences to their customers on any device.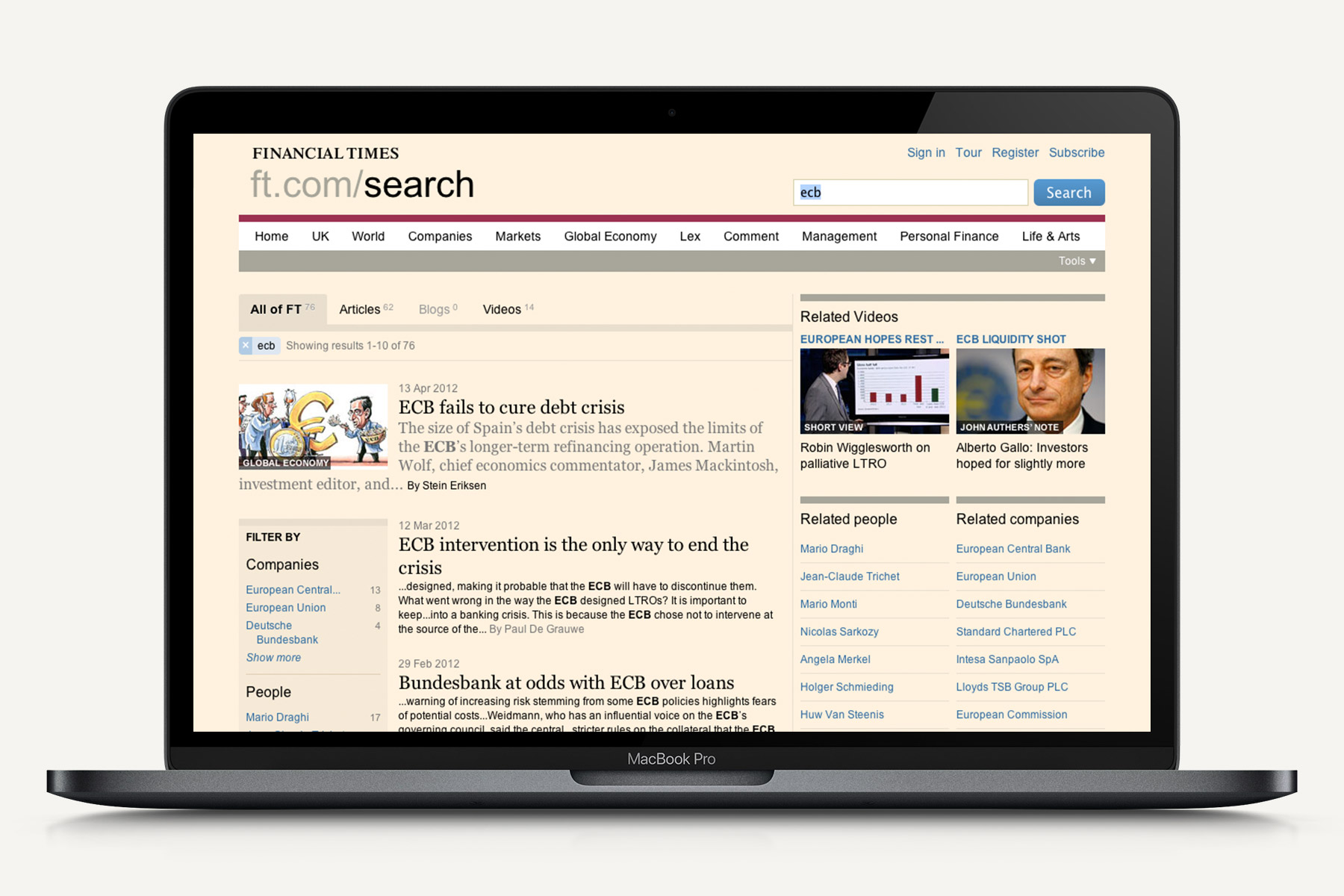 Used by…
The Financial Times. News search for one of the world's most trusted business news organizations. London, UK
Vodafone. Handset, phone plan, and support material search for the world's second-largest telecom. London, UK
Informatics India. Journal search for a collection of 30+ million journal articles. Bangalore, India
ASCE. Site search for the 140,000 member-strong American Society of Civil Engineers. Washington, D.C.
Specialized Applications
By providing a layer of data abstraction, Twigkit reaches across organizational silos, making it possible to surface data from numerous search platforms and data warehouses in a single application. When combined with our data visualization library, geospatial mapping components, and collaborative features such as commenting and bookmarking, Twigkit delivers the flexibility to create specialized research and discovery applications more easily than ever before.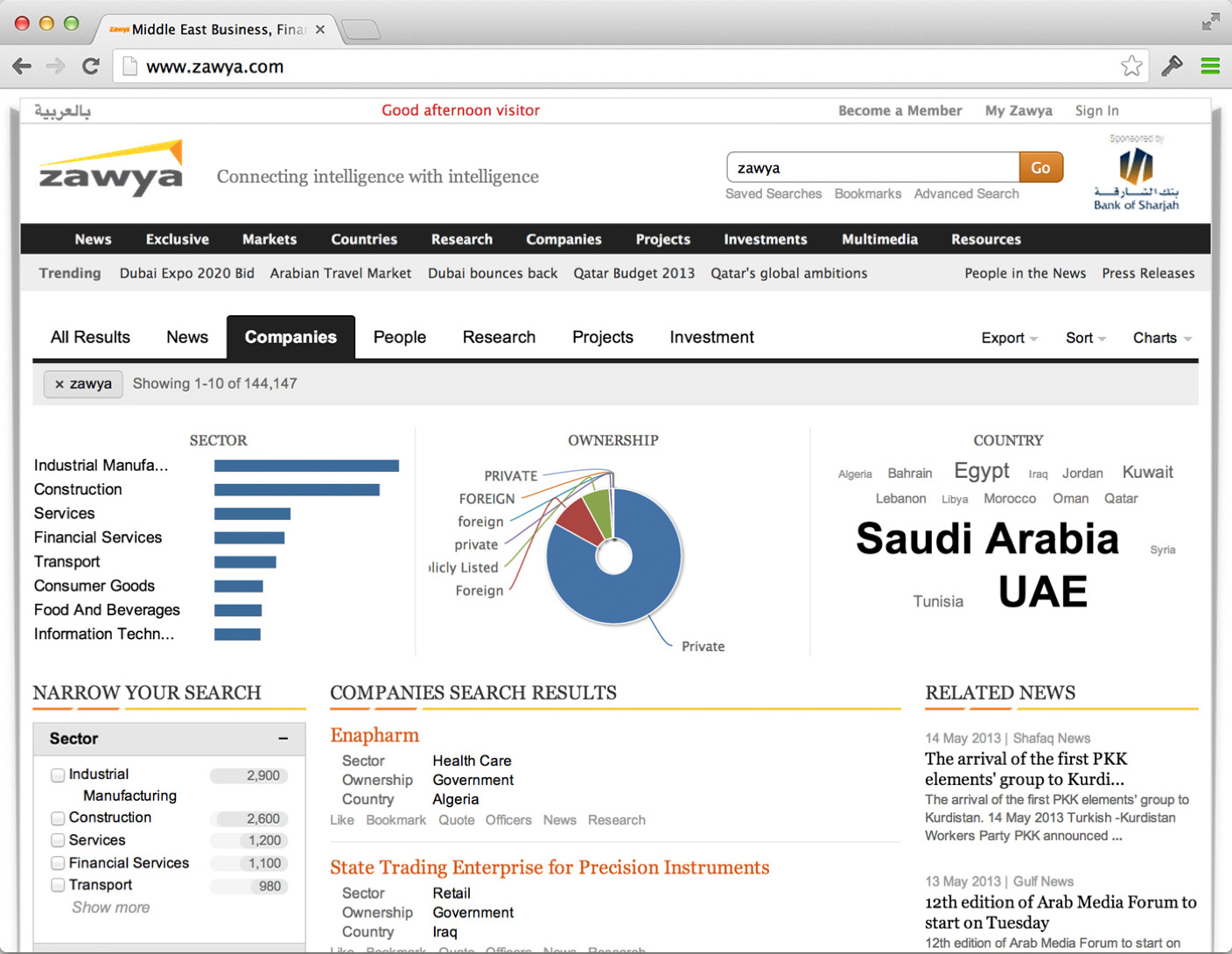 Used by…
Thomson Reuters. News, company, people, and financial search for Zawya, the Middle Eastern arm of Thomson Reuters. Dubai, UAE
The UK National Health Service. Electronic medial record search for clinicians in NHS hospitals. London, UK
BASF. Scientific patent search and analysis for the world's largest chemical company. Ludwigshafen, Germany
WGSN. Image search for the worldwide leader in fashion trend forecasting. London, UK
ITV. Digital asset search for archived television programs for the network behind Downton Abbey. London, UK
Responsive Search & Browse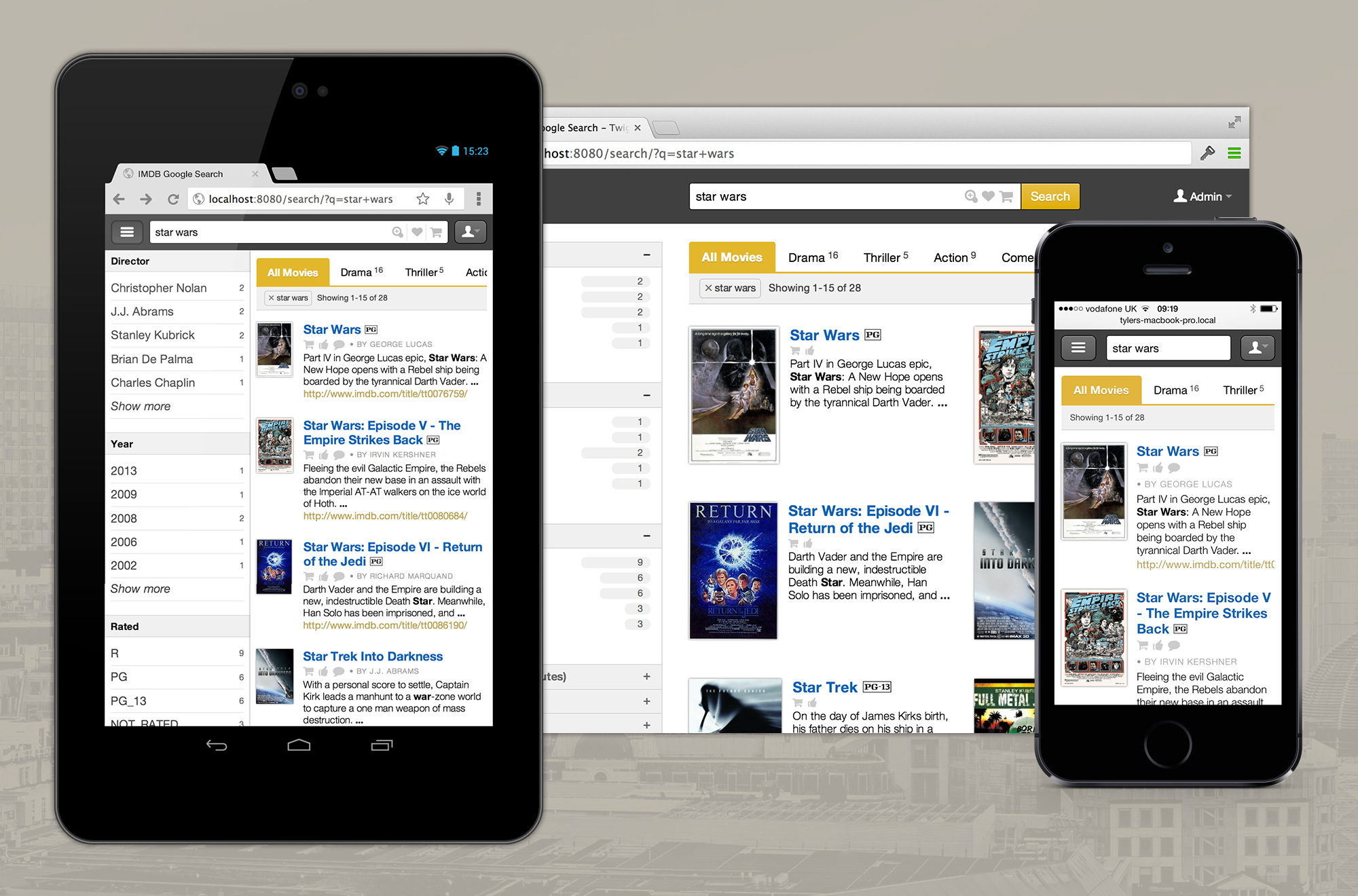 How It Works
I helped Twigkit develop a library of user interface components for everything from the search box and as-you-type-suggestions, to faceted navigation and pagination, to advanced charts and graphs. In my UX Magazine article From Pattern to Component, I summarized this component-based approach:
While design patterns are a structured description of how something should work, a UI component is a reusable building block that fully encapsulates all the code necessary to put that design pattern into action. A component offers a refined, tested solution that fully addresses every nuance and is easy to incorporate into the surrounding interface.
The video below walks through the process of using Twigkit's components to rapidly build an application.
Thought Leadership
While at Twigkit I frequently wrote and spoke about the user experience of search.