Crema.co: The Coffee Marketplace
Our team launched Crema.co in December 2015 after running a successful Kickstarter campaign earlier in the year. In addition to serving as the company's CEO, I also designed the product, developed the front-end, and currently own the back-end development as well. My awesome co-founder, Emily McIntyre, manages our roaster partnerships and all things coffee, and we have a copywriter, coffee professional, and all-star advisory board involved as well.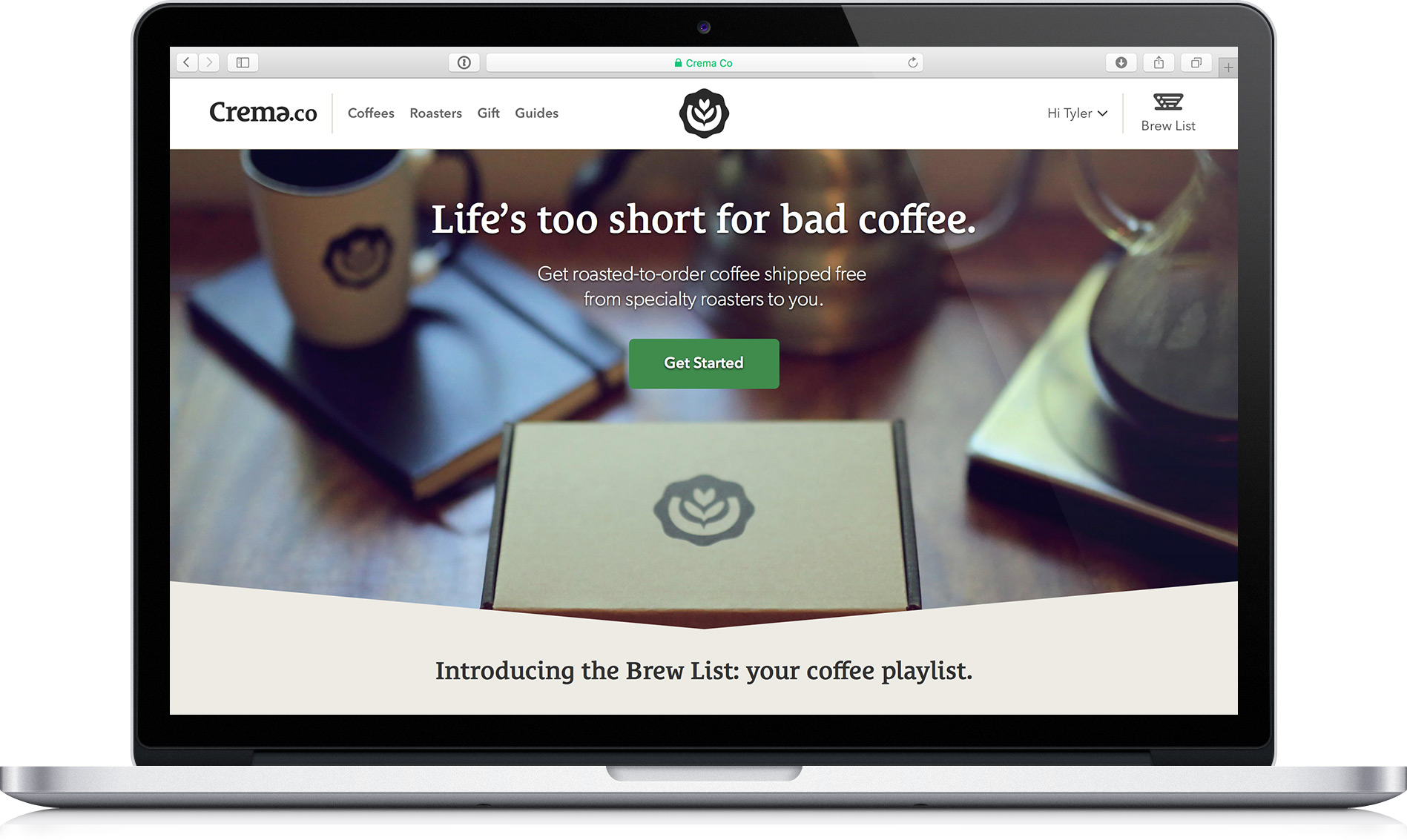 So what is Crema.co? In short, it's a coffee marketplace that enables consumers to subscribe to roasted-to-order coffees from specialty roasters across the US. Every coffee is roasted to order and shipped direct from the roaster, meaning the beans arrive just days after they've been roasted.
Head on over to Crema.co to experience it for yourself! Otherwise, just scroll down to see a few screenshots.
Browse Coffees
Crema.co offers around 50 single-origin coffees from 15 specialty roasters — and counting. We opted to use photographs from the farm on which the coffee is grown to make the experience more personal.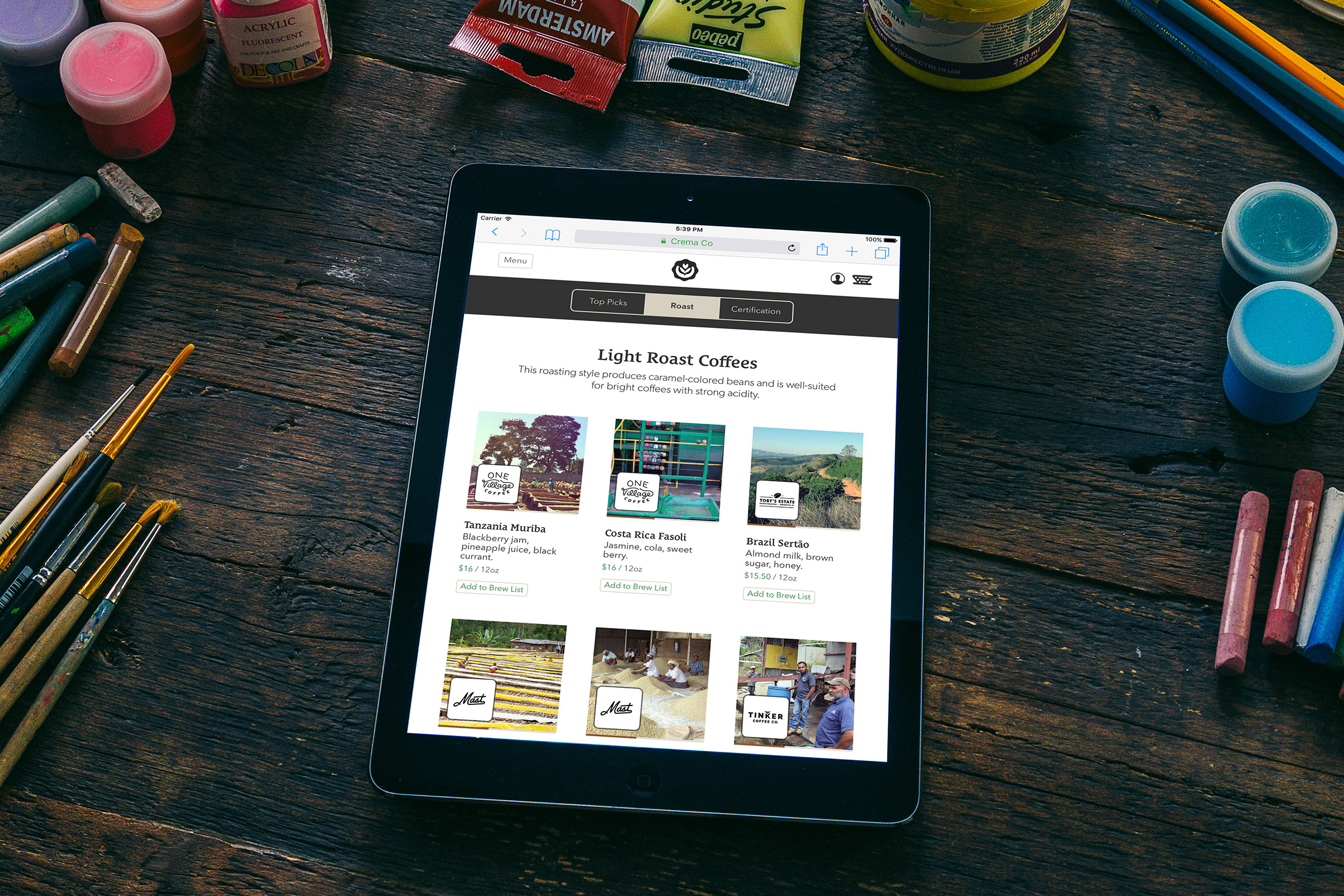 Meet the Grower
Not only do we tell you about the coffee itself — what it tastes like, how much it costs, etc. — but we also…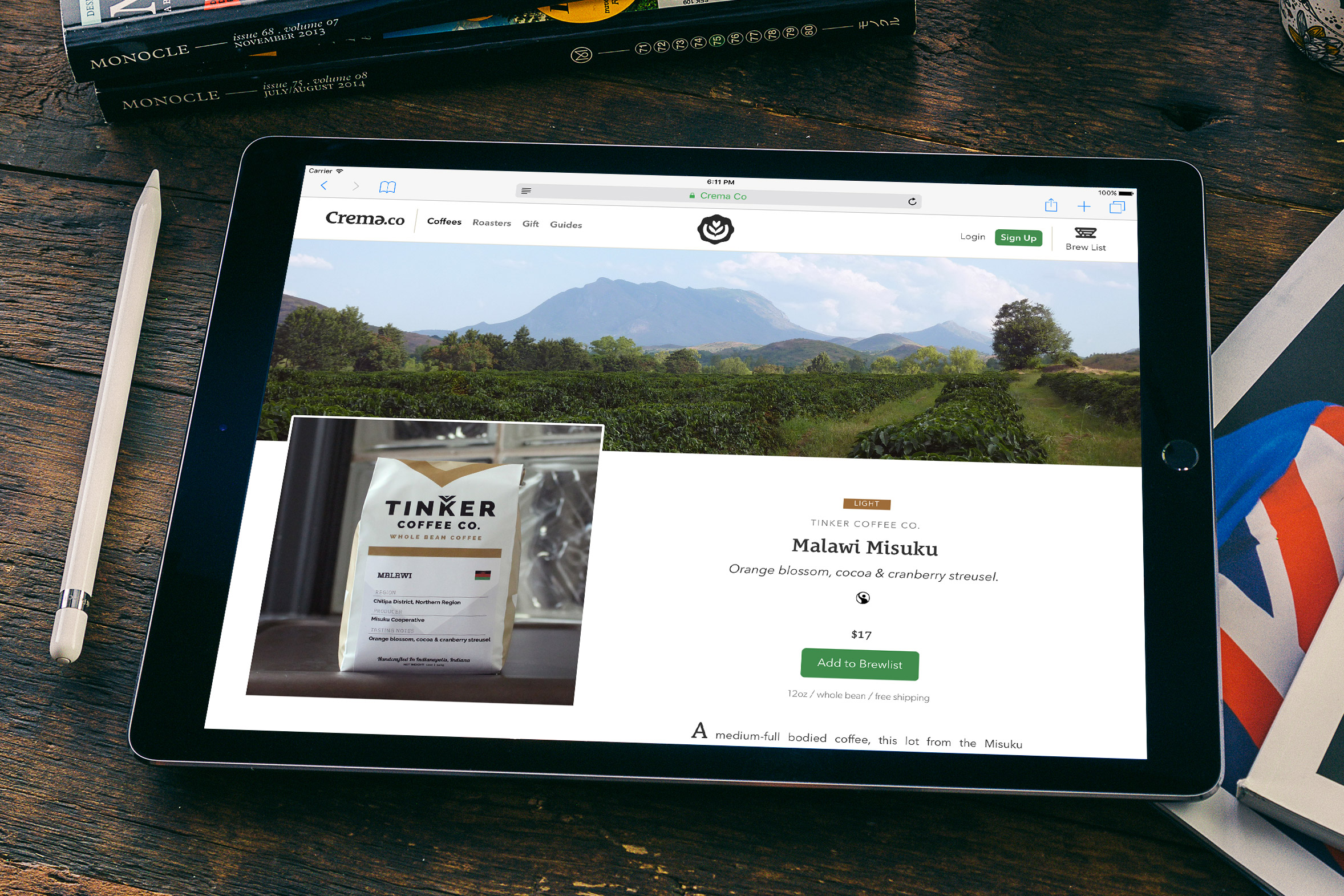 …tell you the story behind each coffee, from a biography of the coffee farmer, to a snapshot of the region in which it was grown.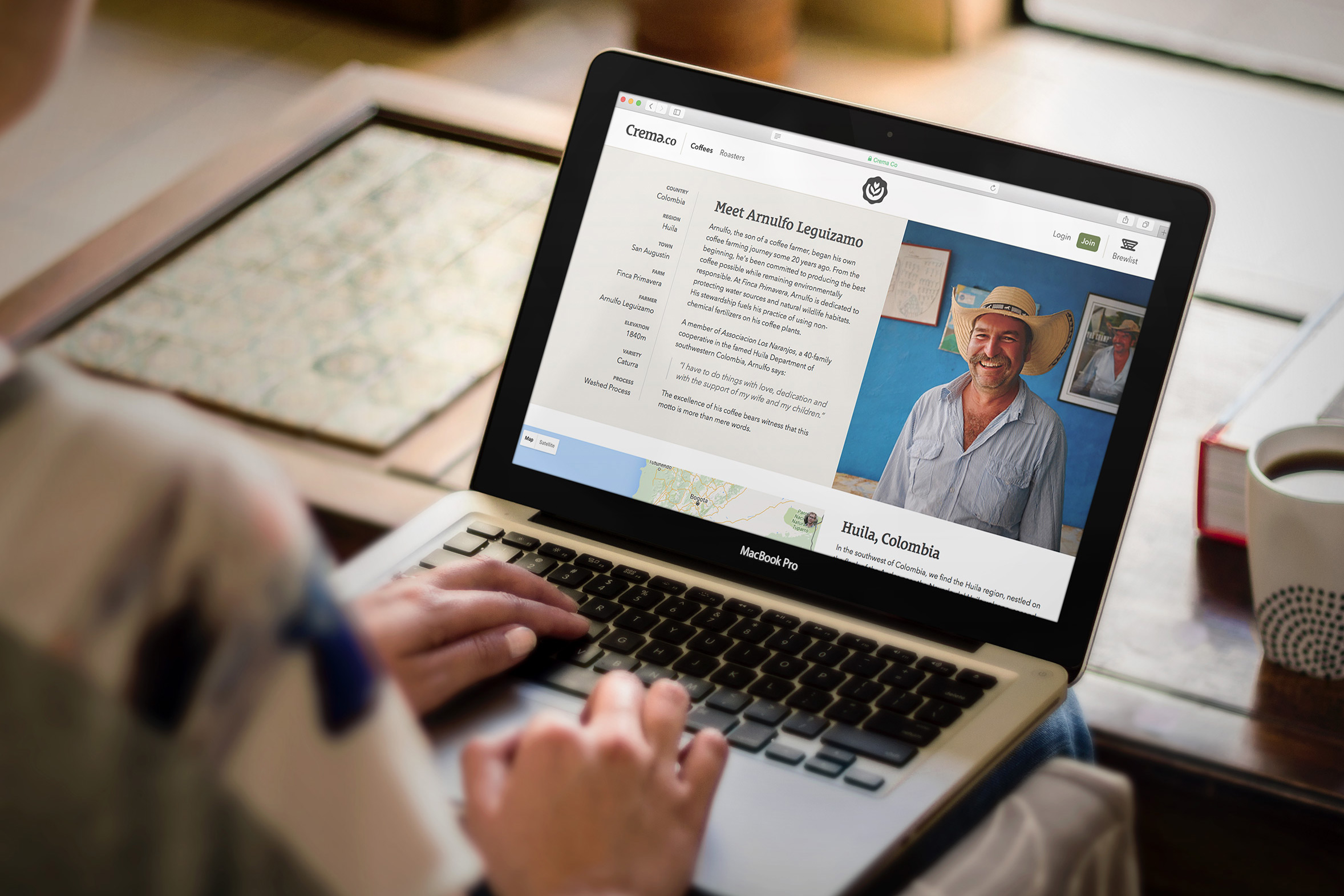 Manage Your Brew List
Our customers subscribe to recurring coffee deliveries using a queue system called the Brew List.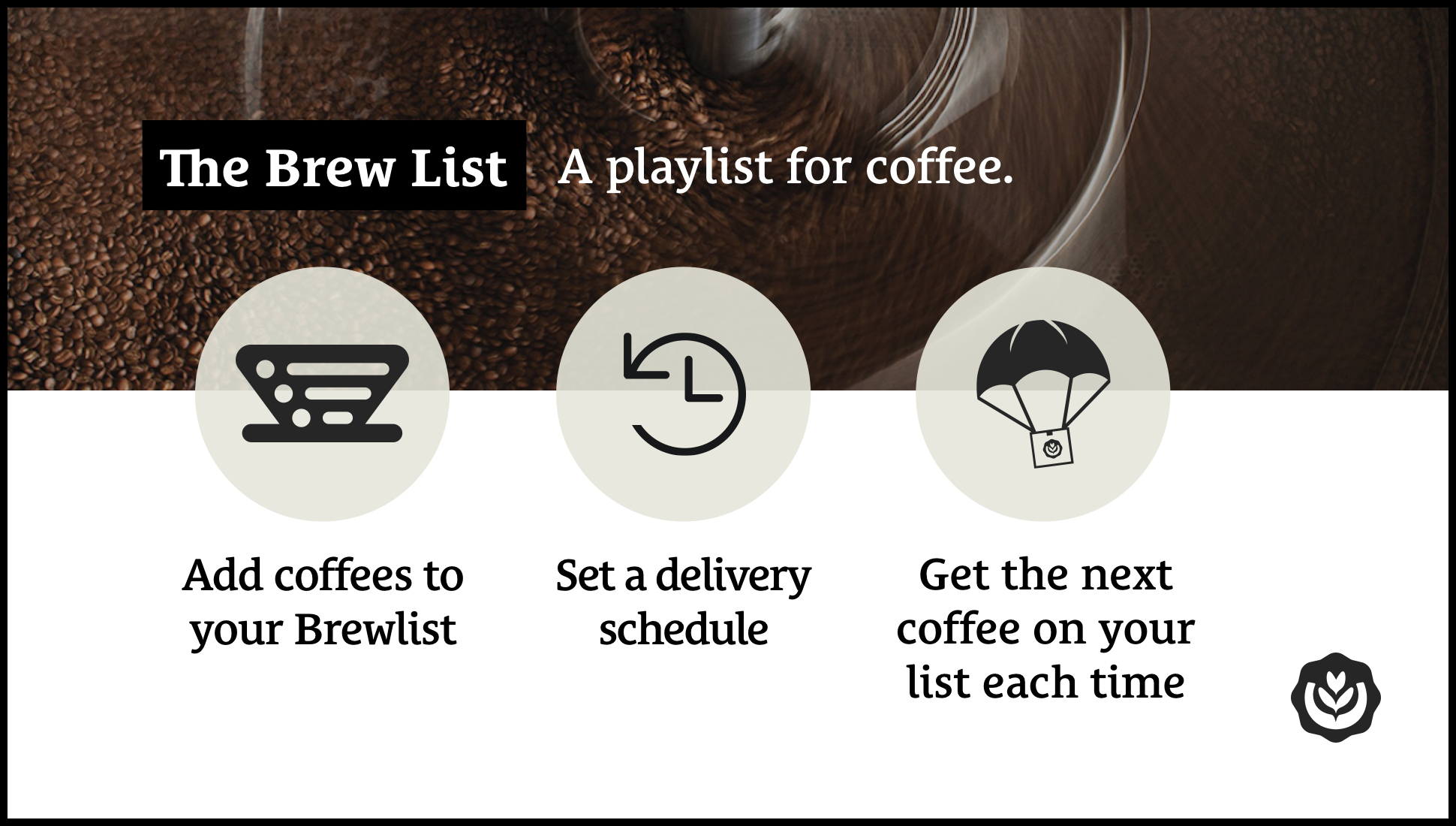 Here's how it works: a customer adds the coffees she'd like to try to her Brew List, sets a delivery frequency (from every week to every month), and then receive the next item on her Brew List each time.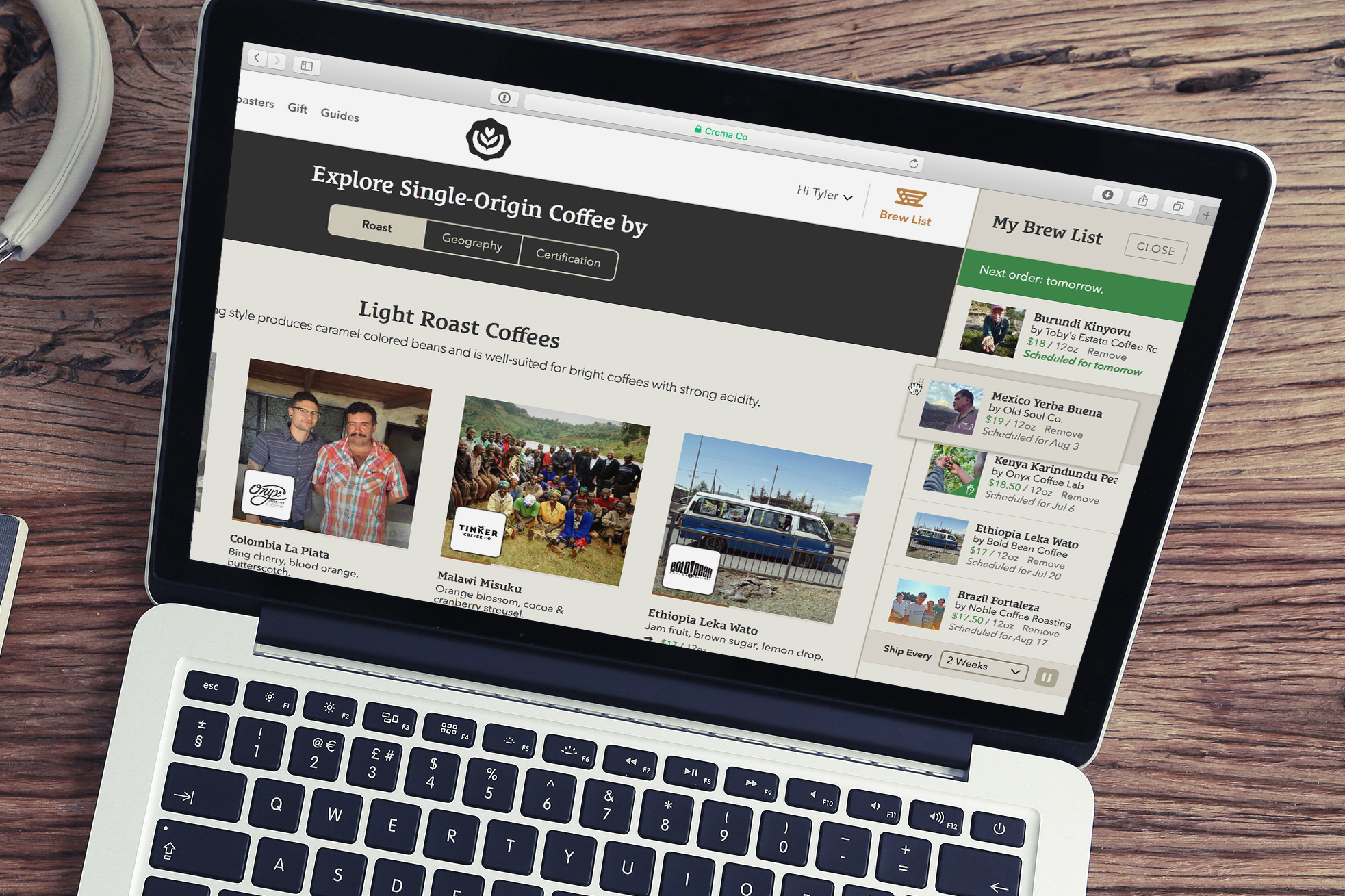 Whether on desktop or mobile, customers can add or remove coffees, pause their subscription, or change their delivery frequency at any time.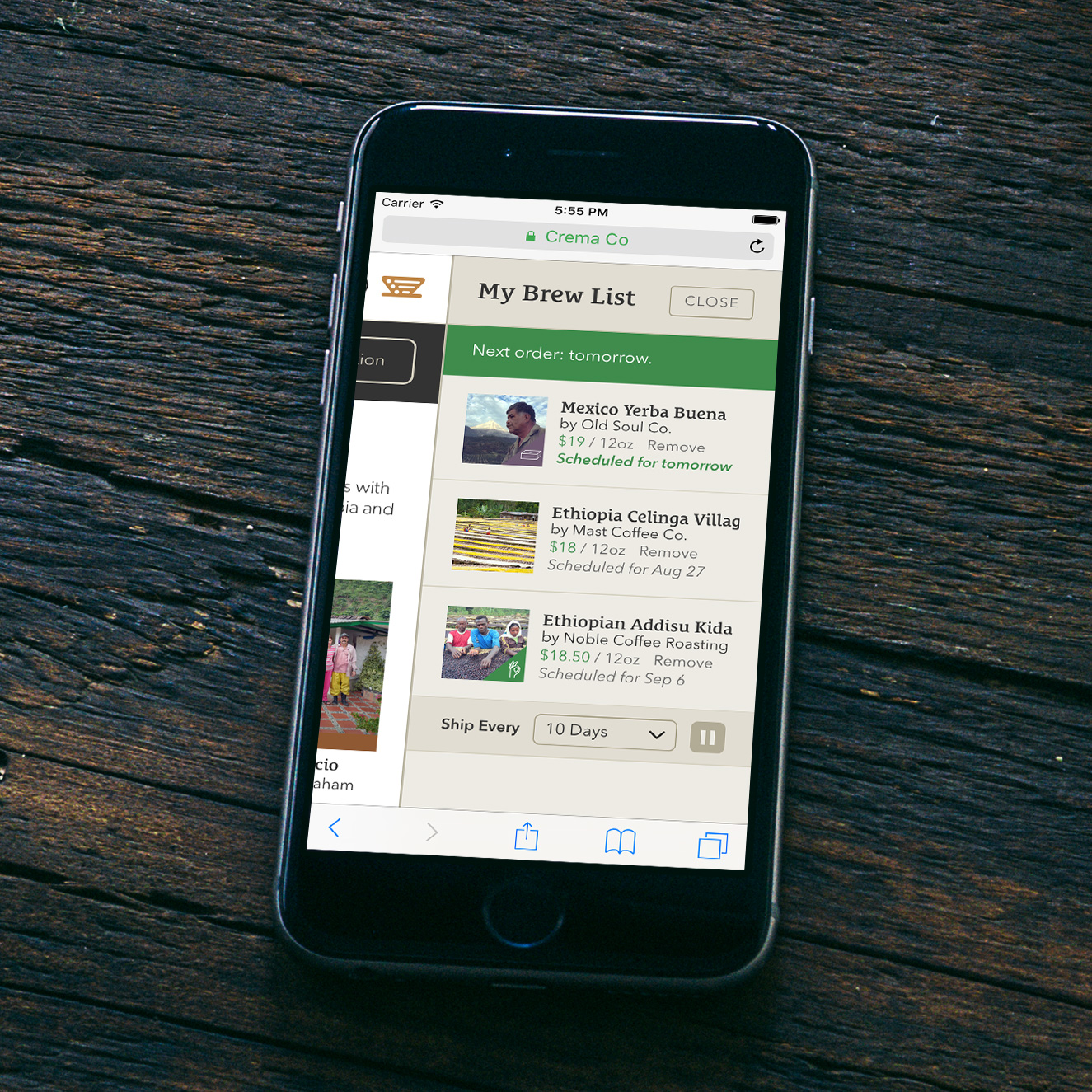 Rate Coffees
After you try a coffee, we invite you to leave a simple thumbs up / thumbs down rating of whether or not you liked it.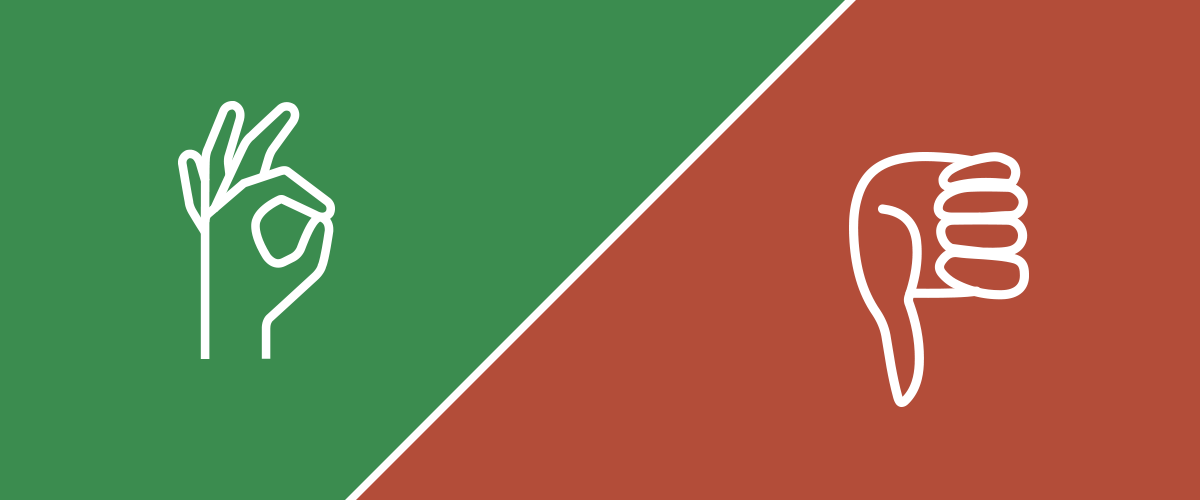 Your Coffee Palate, Visualized
As you order and rate coffees, we calculate your Brew Log: a visual representation of your coffee preferences. This utilizes the latest sensory science research and machine learning techniques to understand the characteristics present in the coffees you enjoy.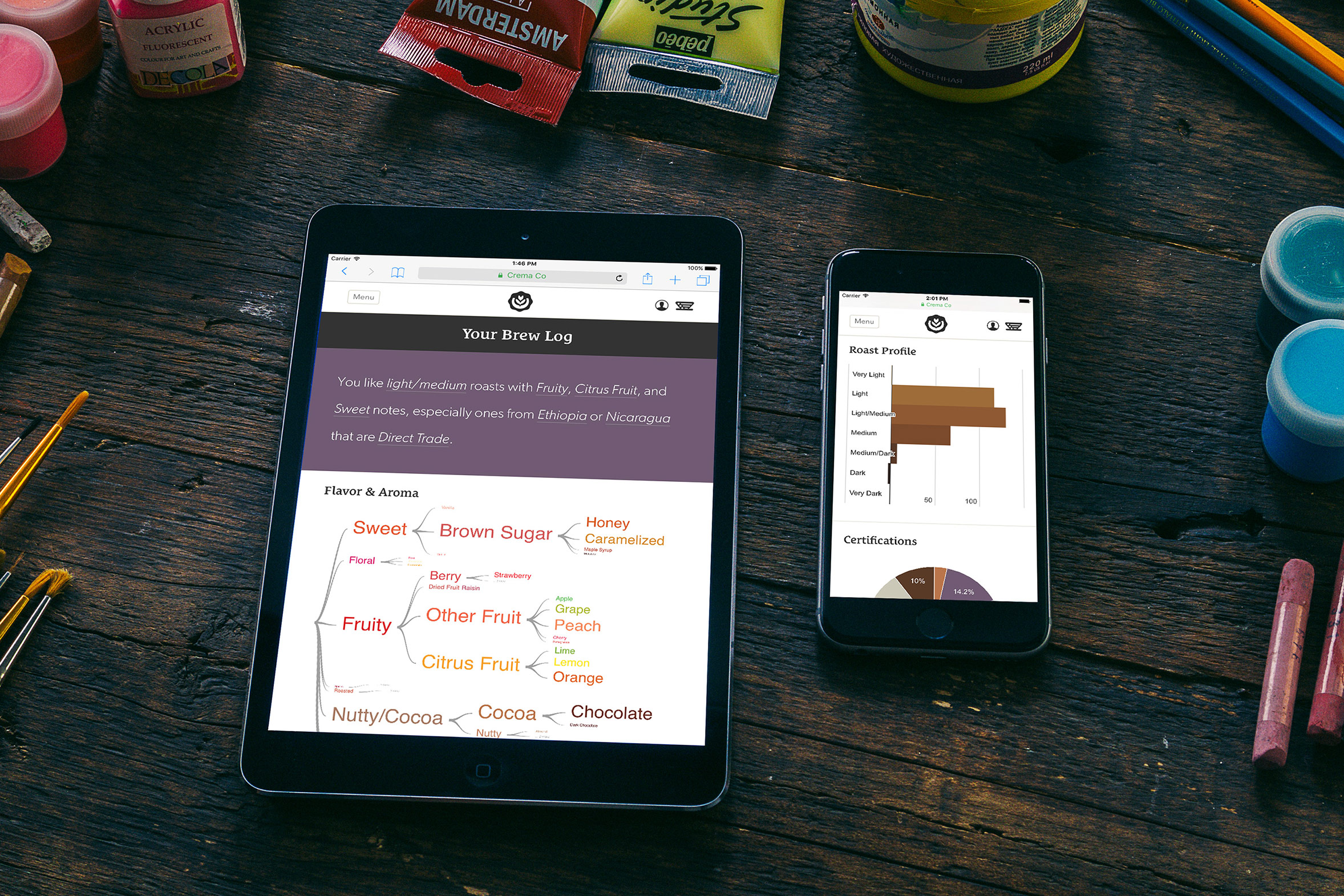 Personalized Recommendations
Based on your personal coffee profile, our recommendation engine then suggests coffees that you're sure to love.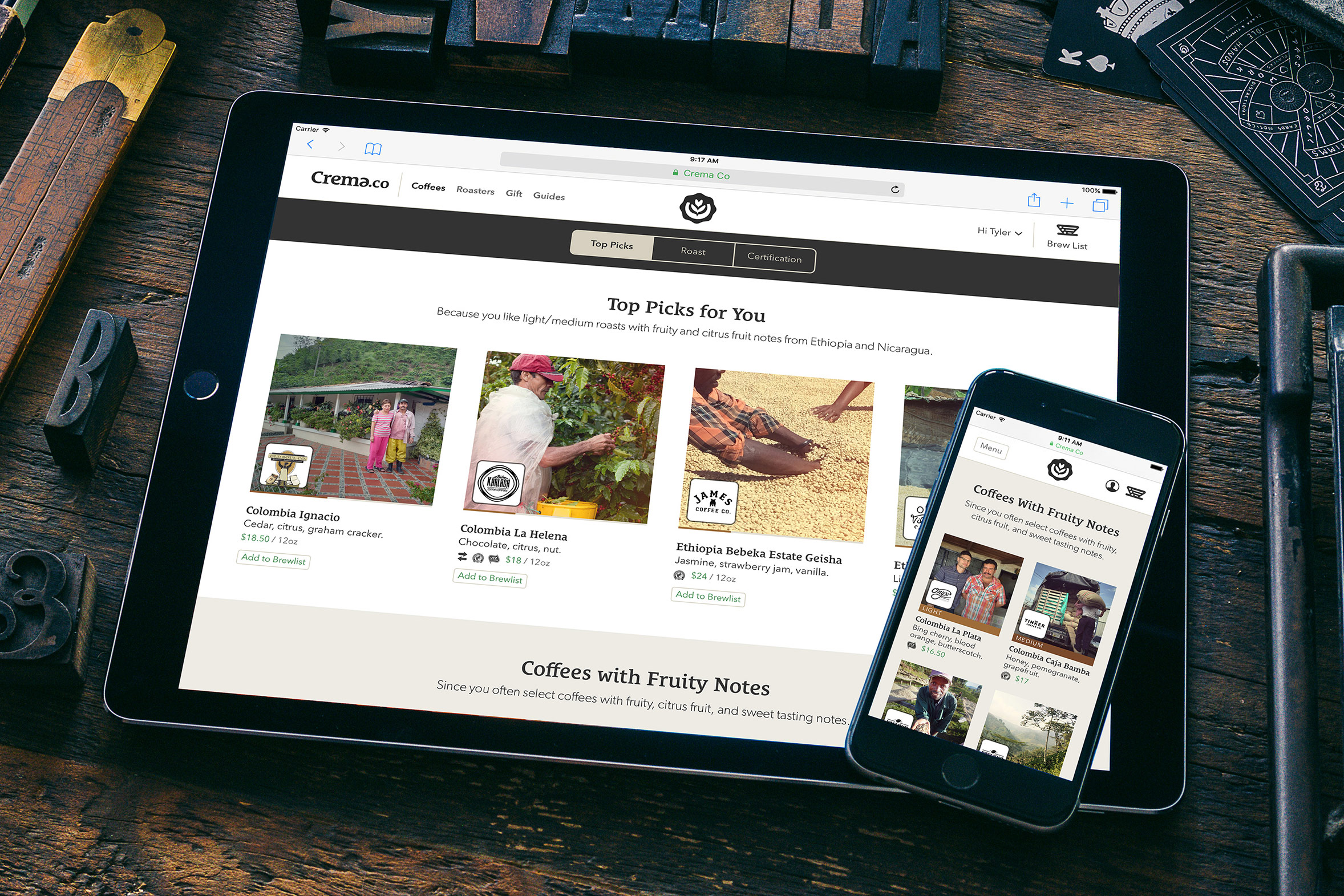 Here's what Daily Coffee News had to say after we launched our recommendation engine:
Crema.co "appears to be pulling ahead of the pack in terms of innovation and unique consumer guidance… with an exceptional balance of preserving each roaster's brand identity, presenting detailed information on each coffee and a convenient, flexible user experience…"
Brew Guides
We've also prepared a series of guides that help educate consumers on how to brew the perfect cup of coffee.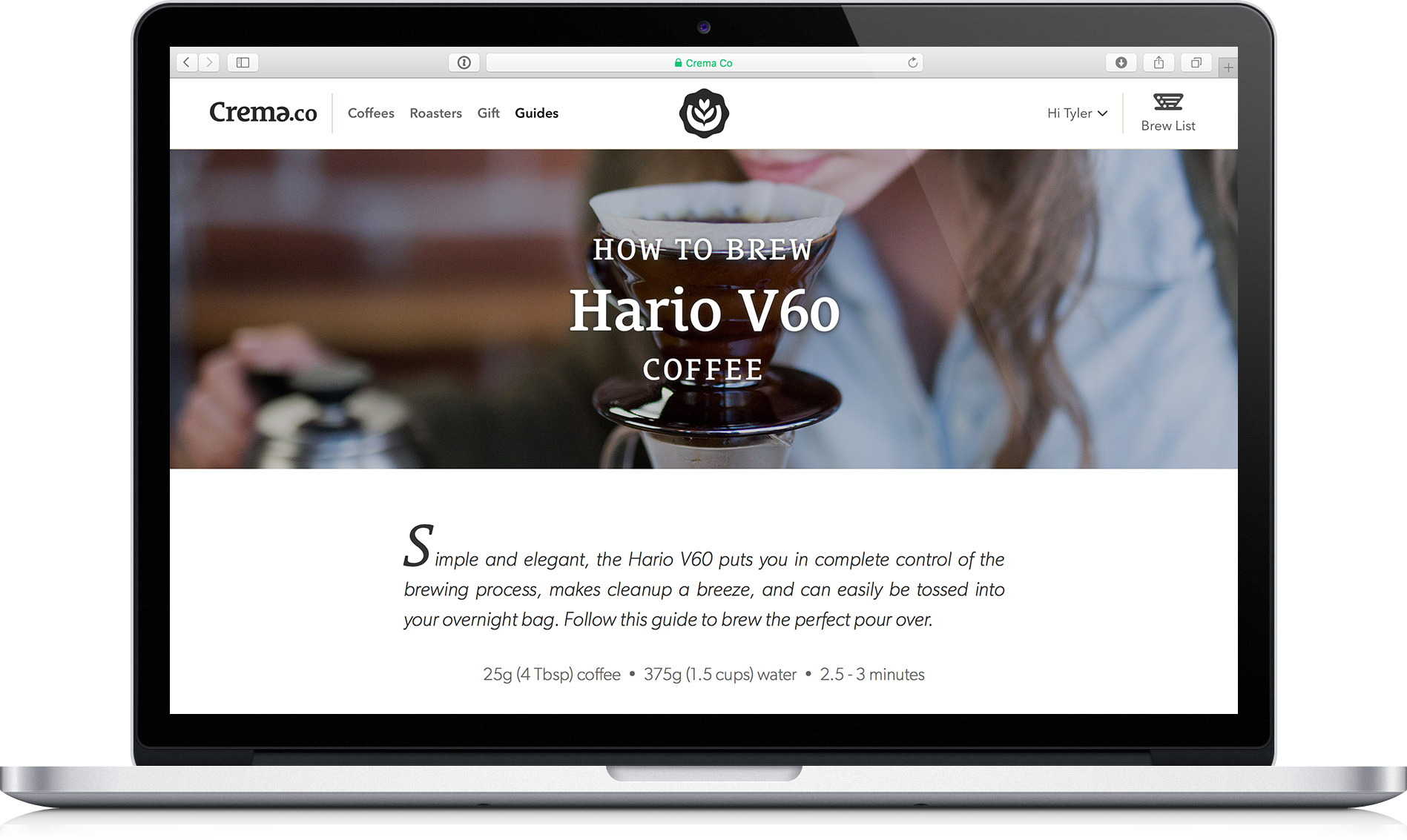 In addition to step-by-step instructions, each brew guide also includes a video.
Packaging
Each bag of coffee is delivered in a Crema.co box.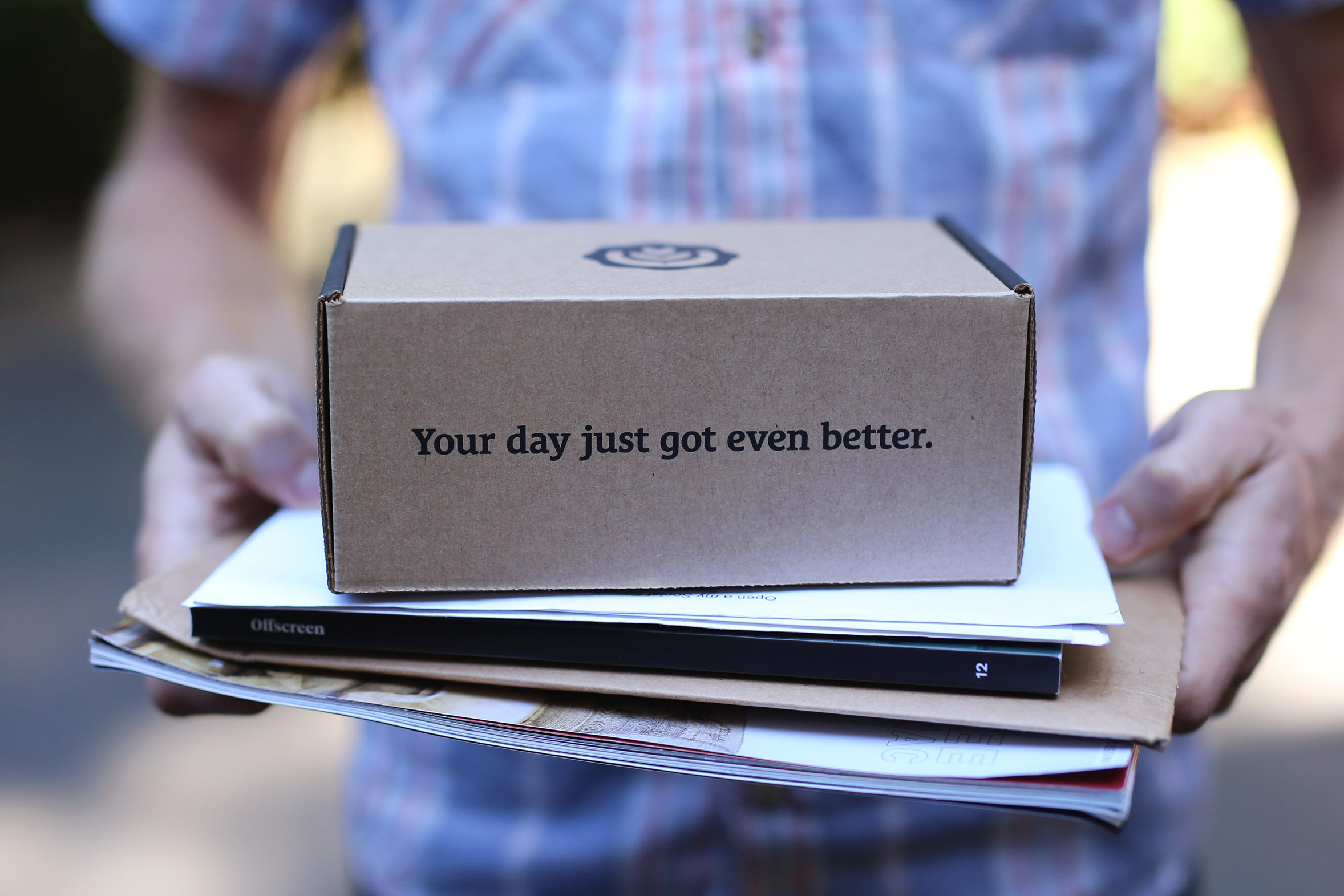 Logo
Our emblem is inspired by the rosetta pattern used in latte art. The term "crema" refers to the copper layer of foam on top of an espresso.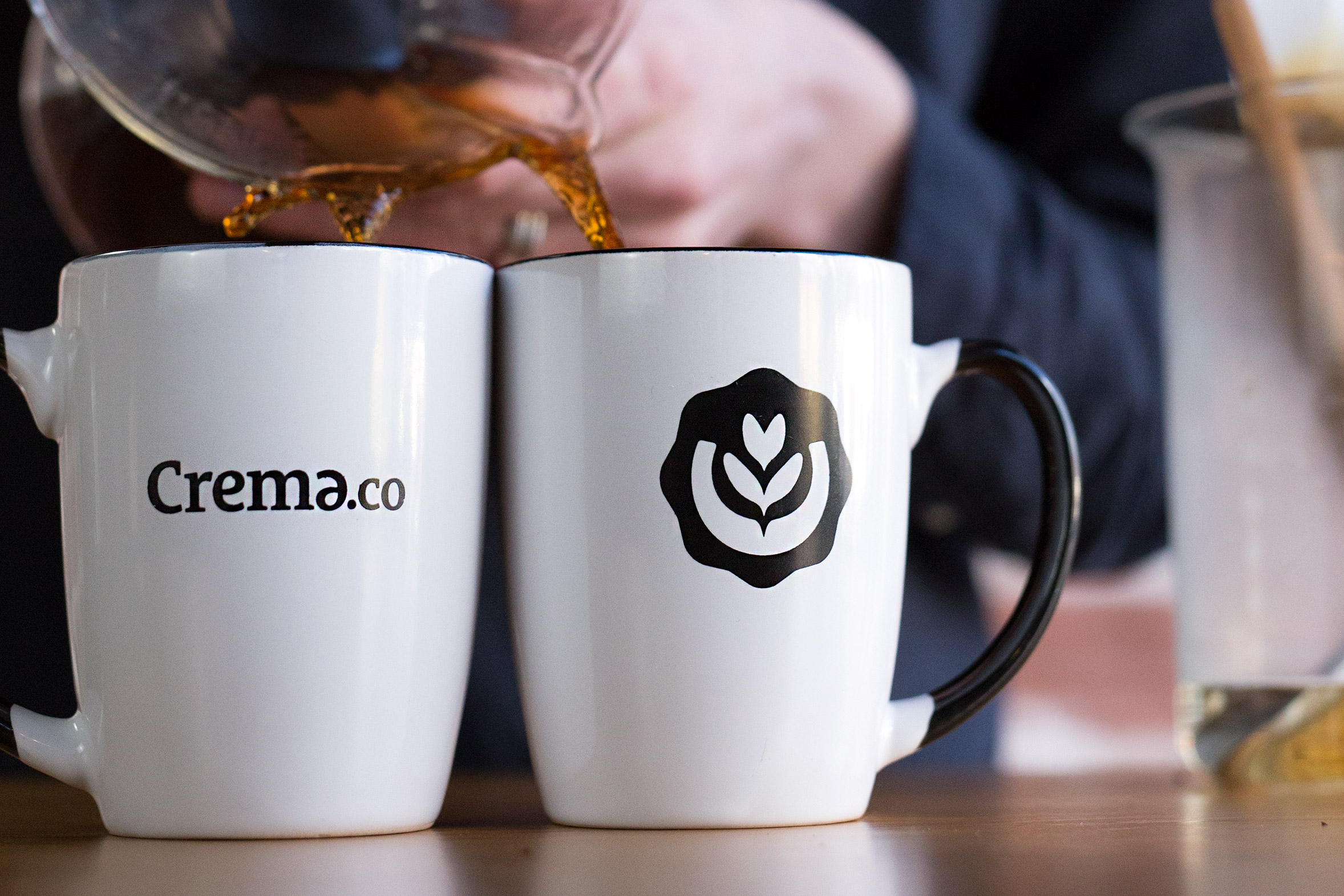 Our Purpose
Cloud forests to office cubes, campfires to kitchen tables: coffee spans the world and touches millions of lives. At Crema.co, we firmly believe that coffee is a community, not a commodity, and we're on a mission to empower farmers, roasters, and coffee drinkers to truly live well.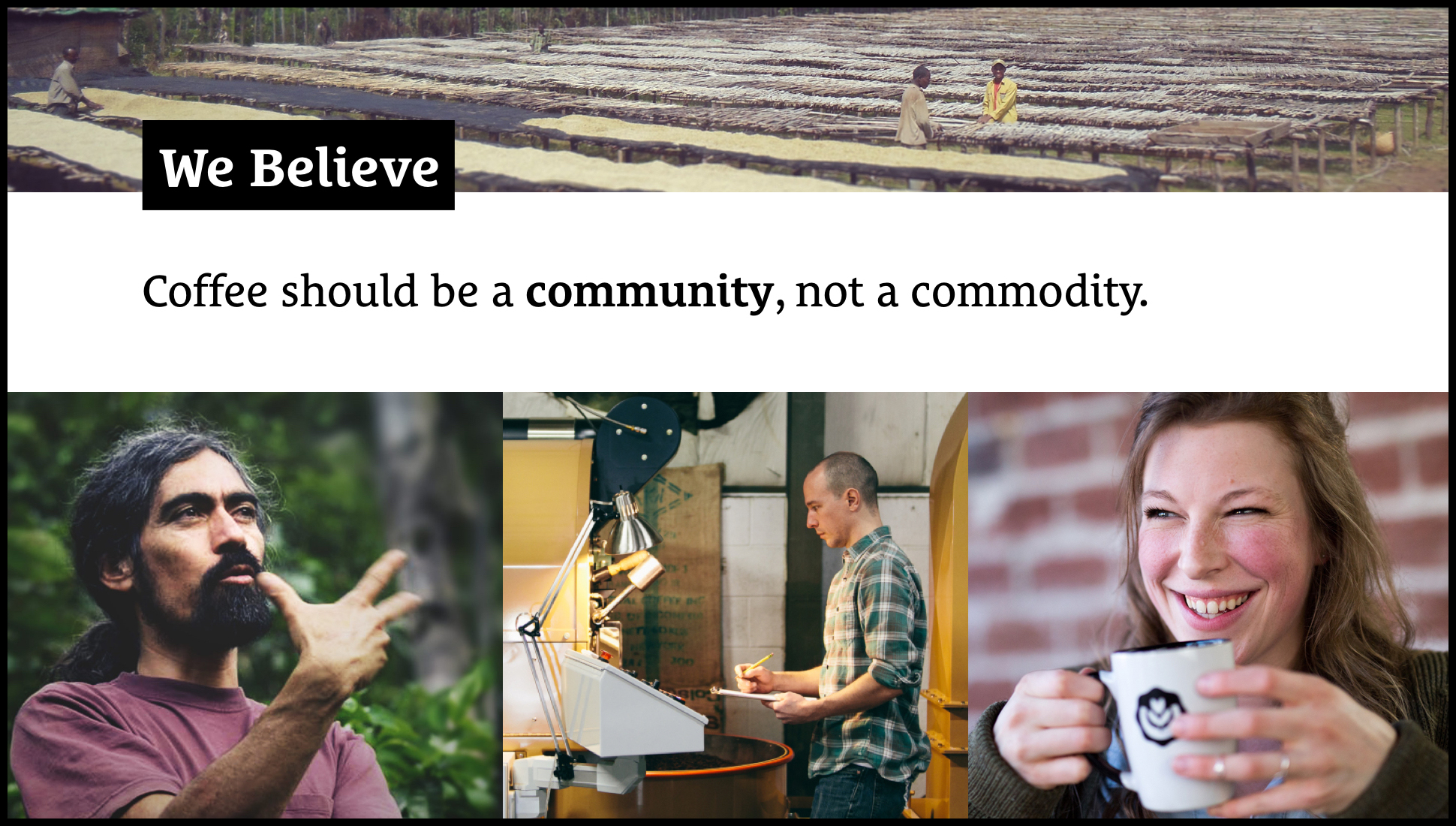 Recommendations
Emily McIntyre (co-founder) says:
"I have the privilege of working with Tyler as co-founder of Crema.co, where together we are revolutionizing how coffee lovers find, buy, and share their coffee. For sheer professionalism, creativity, and deep-dive work, Tyler tops my list of collaborators. He's a brilliant web designer and developer and has a strong grasp of the complexity of marketing, user experience, and product positioning."
Joe Malcoun (investor) says:
"At Nutshell, Cahoots and Notion we have a high bar for excellence in many areas, but there are two in which we're particularly snobby: design and coffee. That's why we've all fallen in love with what our friend, Tyler Tate, is doing at Crema."