April 27, 2010
A Bright New Future for CRM
We've been putting together a small slide deck explaining what's wrong with customer relationship management (CRM) as we know it, and how Nutshell is getting it right. Fortunately for us, there's a whole lot of room for improvement.
CRM is Broken
Sales software is in a pretty dire state. The current CRM market offers dated, difficult-to-use products that don't work as well as they should. Specifically:
Poor Usability. CRMs have added one complicated feature after another, but continually fail at making software usable.
Double Entry. People must schedule events in Outlook, then re-enter the same activities in the CRM.
Painful Reporting. It takes a computer scientist to generate a meaningful report with most CRMs.
Unstructured Data. CRMs don't provide enough structure to accommodate common data such as products and competitors.
Difficult Setup. CRMs often take a full-time professional weeks of installation, followed by ongoing maintenance.
Shared Usernames. CRMs encourage sales teams to share accounts, hurting accountability and personalization.
We think we can do better.
Technological Progress
The last decade saw the rise of the smartphone, social networking, and rich web applications. That's where we come in. Unlike other CRMs on the market, we take full advantage of modern tools and technologies to make CRM both more useful and more usable.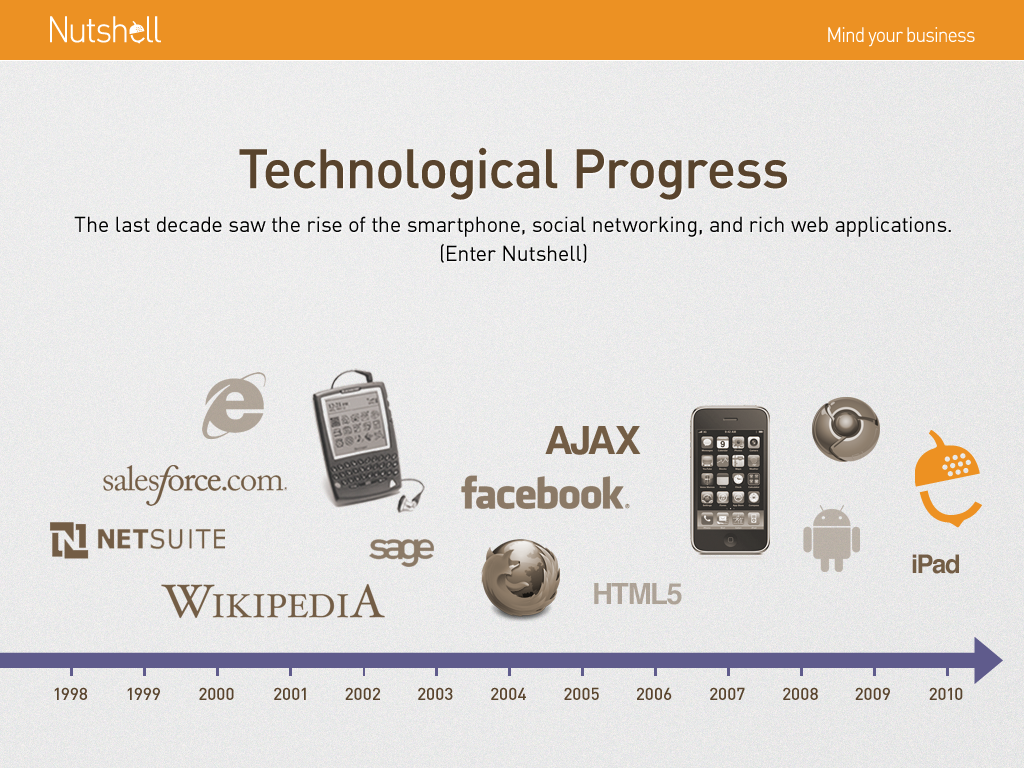 Access Anywhere
On your phone while you take the elevator, on your iPad during your cab ride, or on your laptop at the cafe. Nutshell is hosted in the cloud and provided as software as a service, so it's accessible everywhere. And with our native iPhone app, Nutshell is as mobile as you are. (You can even use it at the office.)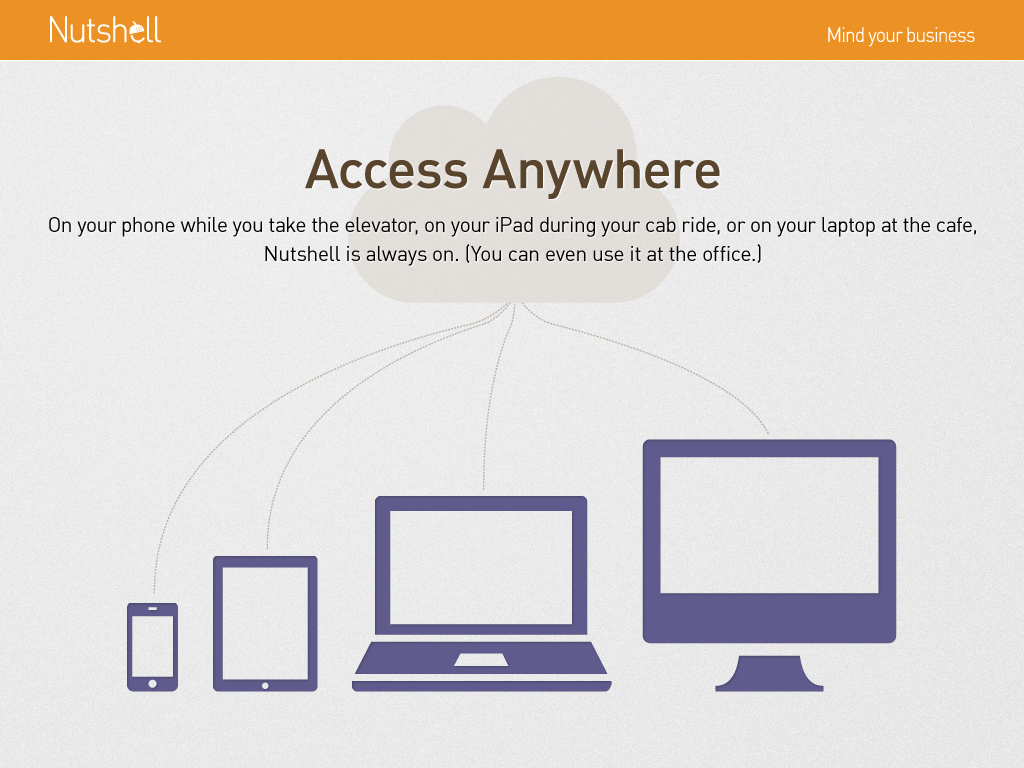 Managing the Sales Process
Every good sales team has a process. Nutshell facilitates that sales process by putting you in control. Define milestones and steps – complete with actions, delays, prerequisites and forms – to build, manage, and monitor the perfect sales process for your organization.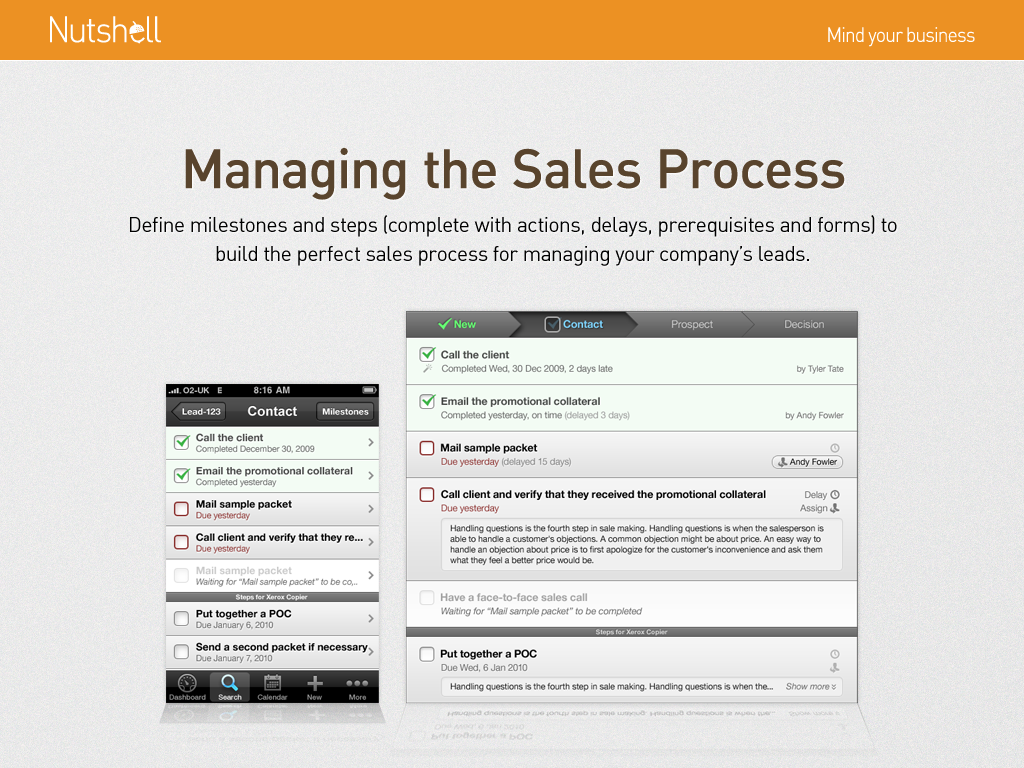 Powerful Reporting
From historic sales reporting, to sales forecasting, to advanced custom reports, always know exactly where your business stands with Nutshell.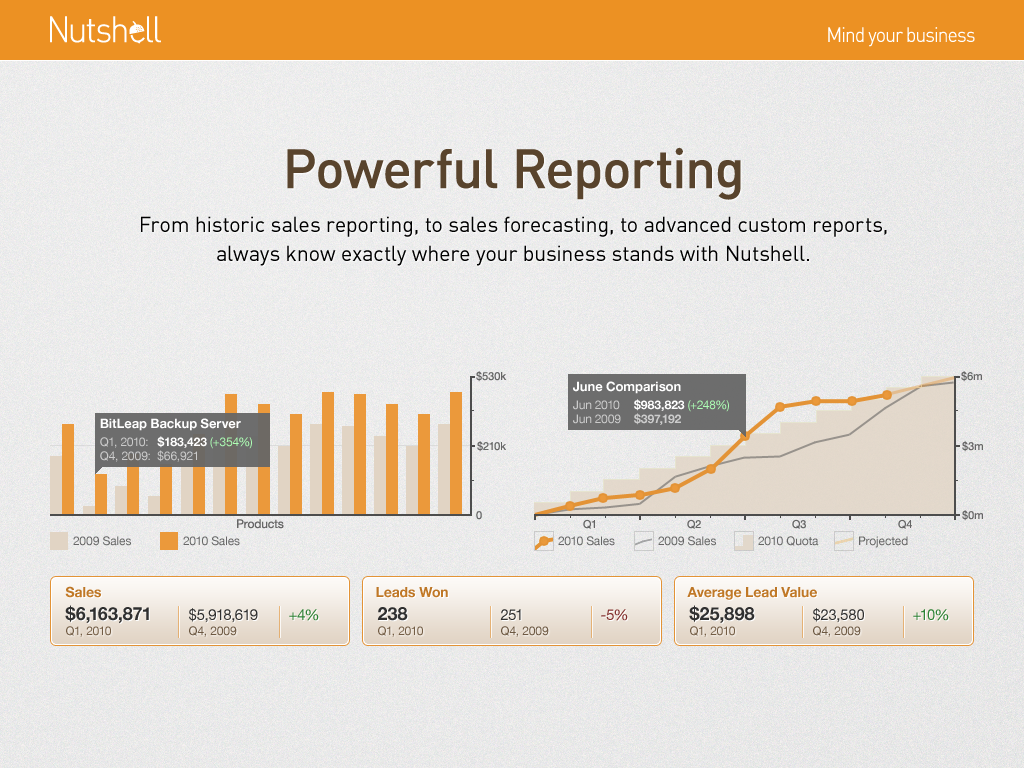 Cloud Infrastructure
Each of our data centers in America and Europe are a high-availability cluster. Put together, they offer transatlantic redundancy and 99.999% uptime.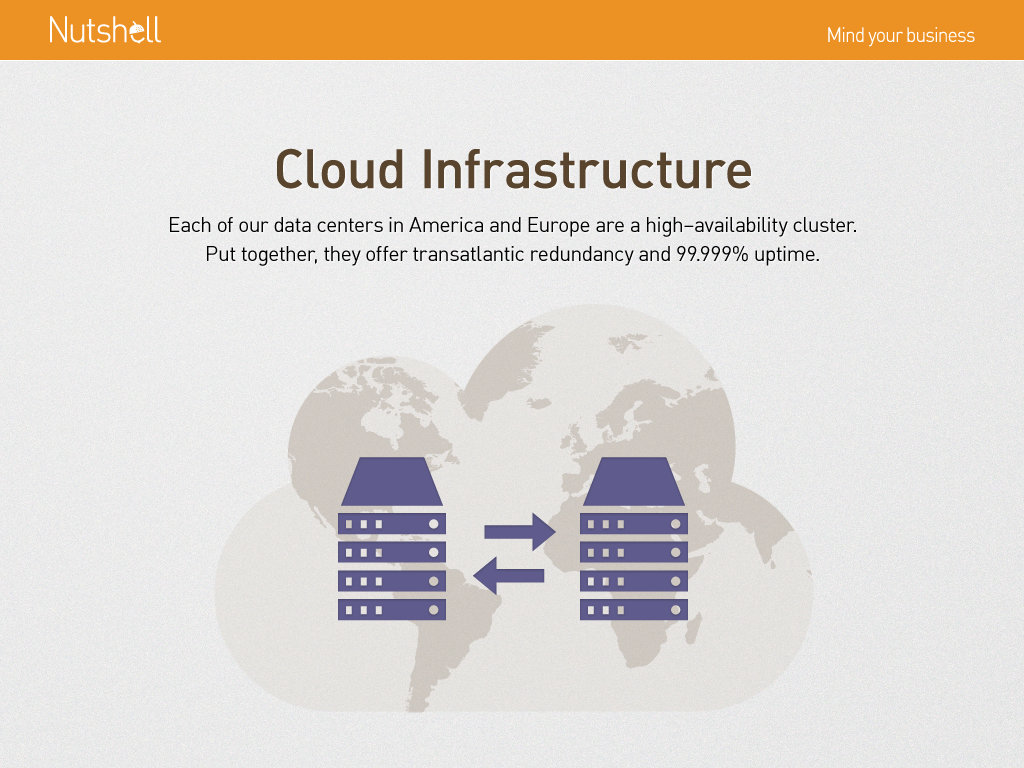 Be In Control of Your Data
With our full-featured API, you can integrate Nutshell with existing business systems and third party tools.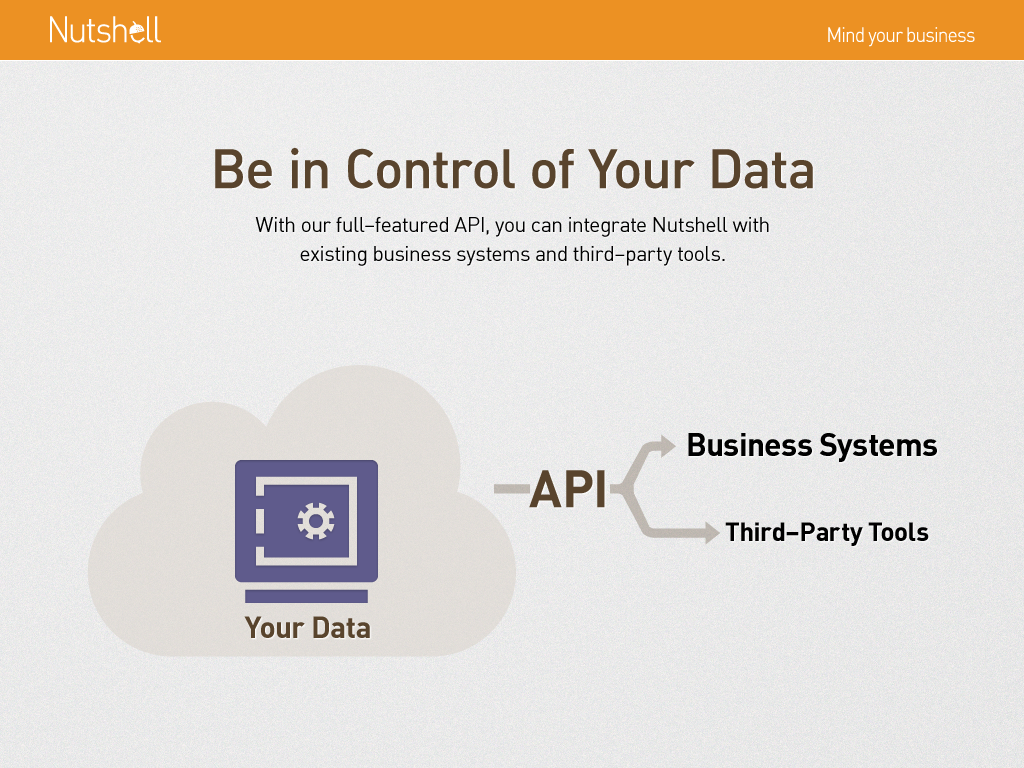 A Good Digital Citizen
There's no need to reinvent your organization's email, calendaring, and security models. Nutshell tightly integrates with your organization's current technology.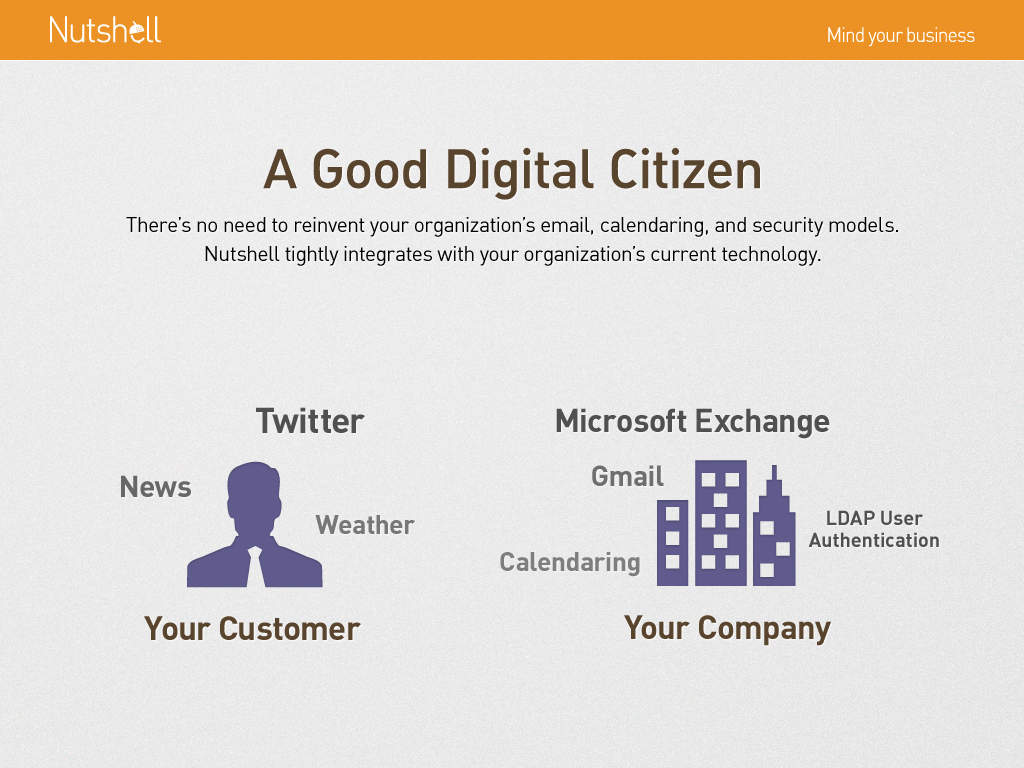 Who We Are
Nutshell's board boasts years of business, technology, and sales experience. Operating out of Ann Arbor and London, the Nutshell team includes specialists in business management, design, software development, and network infrastructure.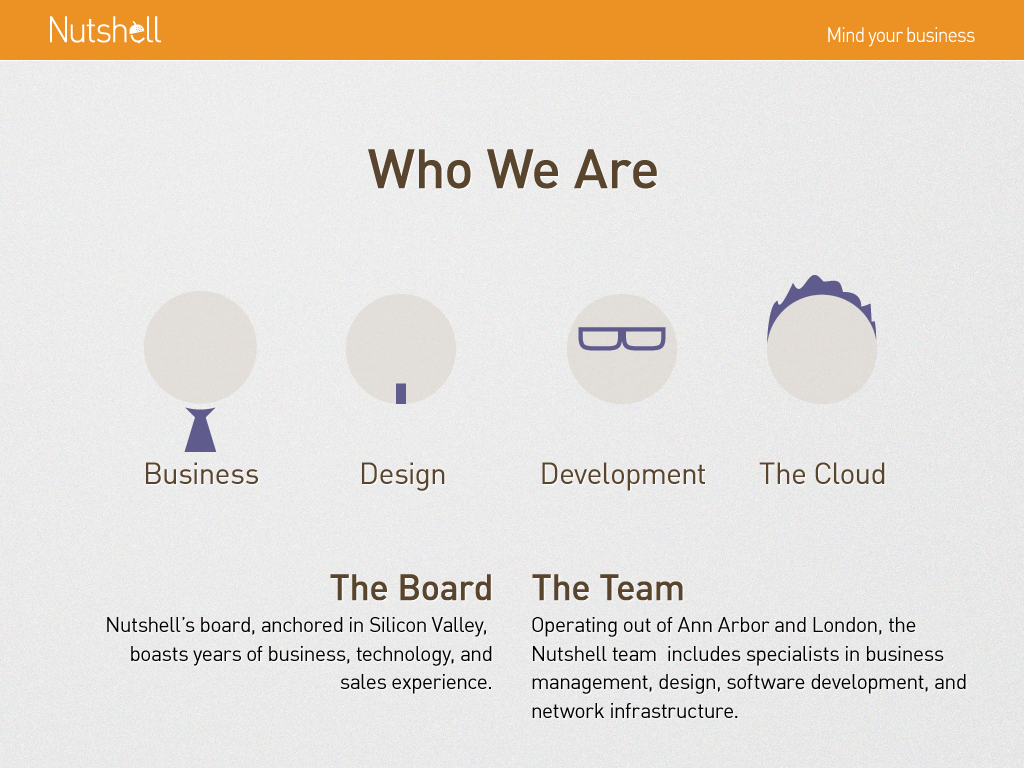 What's in Store
We are busy building Nutshell and look forward to showing you more in the near future. If you're ready to turn your department into a sales dream team, then watch this space.
Originally published on the Nutshell blog.
blog comments powered by

Disqus